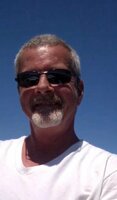 Robert Blair Hickey
Hickey, Robert
Saginaw, Michigan
Beloved uncle, brother, son, and friend Robert Blair Hickey, 58, passed away on February 8, 2023 at his home in Saginaw, Michigan. Robert was born in Saginaw to Robert (Bob) and Lynn (Schaper) Hickey on May 20, 1964.
In his 20s and 30s, Robert lived in several different states, including New York and Key West, Florida. He also enjoyed traveling, spending time with his family, decorating, collecting houseplants, and planting outdoors.
Robert is survived by his siblings, Dawne (Roger) Delgado and Brian Hickey; nieces, Devin (Chris) Dahs and Casey (Andrew) Morse, and great-nephews Easton, Parker, and Kaiden Morse. He is preceded in death by his mother and father; niece, Schuyler Hickey, and best friend Jeff Saldana.
Per Robert's request, cremation has taken place and there will not be any funeral or memorial services held.
Deisler Funeral Home is honored to serve the Hickey Family. Please share your thoughts and memories with the family through www.deislerfuneralhome.com.