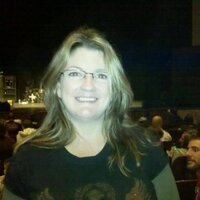 Katerina Schramke Keating
Keating, Katerina Schramke
Saginaw, Michigan
Our loving mother, grandmother, daughter, sister and dear friend passed away on Thursday, November 10, 2022 at her home. She was 58 years old. Katerina Anna Schramke was born on May 13, 1964 in Flint, Michigan to Kathleen Anne (Bernath) and Jan Joseph Schramke.
She graduated from Saginaw Valley State University with a degree in Medical Laboratory Science. She was a proud alumnus and an ambassador of the profession.
Katerina was fun-loving, generous, a free spirit who always had an uplifting word to share with those around her. She saw the best in everyone and helped others to see it in themselves. She loved to read, go to rock concerts, and spend time with her family. She was a wonderful Meme to her grandchildren and has been a constant cheerleader and supporter in their lives. Katerina will be dearly missed by all who knew and loved her.
Katerina is survived by her daughter, Jesseca (Curtis) McLeod; son Robert Schramke; mother, Kathleen (Robert) Tomlin; sister, Christina (William) Lauzon; granddaughter, Nora; bonus grandsons: Nolan and Gianni; bonus sisters: Kim Heath, Sheila (Tim) Riley and Bobbie Jo Stierheim; and her two faithful pug companions: Ranger and Jenny (867-5309).
Katerina was preceded in death by her father, Jan Joseph Schramke; and her son, Dylan.
MEMORIAL SERVICE: In keeping with Katerina's wishes, cremation has taken place. A memorial service will be held at 5:00 p.m. on Friday, November 18, 2022 at the Deisler Funeral Home, 2233 Hemmeter Rd. (off State), Saginaw, Michigan 48603.
VISITATION: Family and friends will gather at the funeral home on Friday from 12:00 p.m. until the time of service at 5:00 p.m. Dinner to follow, location details will be available Friday at the memorial service.
MEMORIALS: In lieu of flowers, those planning an expression of sympathy may wish to consider a donation to READ Association of Saginaw County or Saginaw Recovery House. Please share your thoughts and memories with the family at the funeral home or through www.DeislerFuneralHome.com