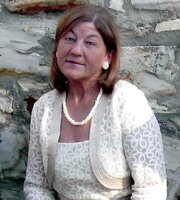 Patricia A. Bradt
Bradt, Patricia A. age 68, passed away on Thursday, November 10, 2022 at University of Michigan Hospital. Patricia was born on September 29, 1954 in Saginaw, MI the daughter of Harold and Rosa (Newman) Henige. Patricia graduated from New Lothrop High School and continued her education at Saginaw Valley State University, graduating with a bachelor's degree. Patricia was united in marriage to David Bradt on June 19, 1976 in Saginaw, Michigan; he preceded her in death on August 27, 2020.
Patricia was the township clerk in Zilwaukee for over 45 years. She also worked for a short period of time at GM; where she met her husband David. Patricia was a member of the Rotary Club and Big Brother Big Sister of America. She was also a longtime member of St. John Paul II Catholic Church (formerly known as St. Josaphat site). Patricia enjoyed baking, canning, gardening, sewing, knitting and animals; she was known for taking in all the strays who wandered up to her doorstep. But most of all Patricia loved taking care of her family; she was always looking out for her family and friends.
Patricia is survived by her children; Karen (Jeffrey) Newman, Laura Knipfer, Kristin (Dane) Grzegorczyk; grandchildren, Benjamin & Claire Newman, Julia Knipfer, Connor & Carson Grzegorczyk, siblings; Imelda, (Jim) Flint, James Henige, Janice(Robert) Brines, Grace (Mark) Stoll, Dennis (Stephanie) Henige, Carol (Jerry) Robinson, Gregory (Michelle) Henige, sisters in-law; Diane Henige and Susanne Henige and many nieces, nephews and dear friends.
Besides her parents and husband, Patricia was preceded in death by three brothers; Infant Gerald, Victor and Timothy Henige and a sister-in-law; Vickie Henige.
FUNERAL: A Funeral Mass will take place Tuesday, November 22, 2022 at 12:00 p.m. from St. John Paul II Catholic Parish, St. Josaphat site, 469 Shattuck Rd. Saginaw, MI 48604. Interment to follow in Roselawn Memorial Gardens.
VISITATION: Family and friends are welcome to gather at the church Tuesday morning from 11:00 a.m. to 12:00 p.m.
MEMORIALS: Those planning a memorial contribution are asked to consider The V Foundation for Cancer Research or Saginaw County Animal Care Center.
Deisler Funeral Home is honored to be serving the Bradt family; Please share your thoughts and memories with Patricia's family at the church or by visiting: www. DeislerFuneralHome.com