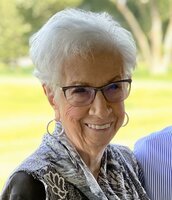 Barbara Jean Meyer
Meyer, Barbara
Saginaw, Michigan
Barbara Meyer went home to be with the Lord on Wednesday, November 9, 2022 at home with her family by her side; she was 90 years old. Barbara Jean Midcalf was born on July 4, 1932 to the late Theodore and Clara Midcalf. She married Henry Meyer on December 1, 1988; he preceded her in death on December 23, 2014.
Barbara served as the 70th District Court Administrator for 25 years and was on the Board of Directors at the Saginaw County Employee Credit Union for 44 years. After retirement, Barbara volunteered at Covenant Hospital and Saginaw Employee Credit Union. She was extremely lucky and enjoyed going to the casino, playing the lotto and the Daily 3. She loved playing cards, board games and dominos with family and friends. Barbara was a University of Michigan fan and could be found cheering them on in football and basketball. Full of energy and hardworking, she will be remembered most for her loving ways and willingness to help others.
Surviving are her daughter, Lisa (Richard) Schmidt of Venice, CA; devoted partner, John "Jack" Doyle; two grandsons: Hunter and Holden Schmidt; stepdaughter, Lori Meyer of Kalamazoo, MI; stepson, Tim Meyer of Phoenix, AZ; four step grandchildren: Amanda (Mark) Perkins of White Lake, MI and AnnMarie (Jordan) Chapin of Kingston, MI; five step great-grandchildren: Parker Meinhold and Camden and Kyle Perkins, Owen and Henry Chapin; her brother, Richard Midcalf of Saginaw, MI; and her sister Janet Ridgewell of Ft. Pierce, FL and many nieces and nephews. She will also be missed by John and Cathy Doyle, Matt and Jenny Doyle, Debbie Doyle and their children and grandchildren.
Barbara was preceded in death by her four brothers: Theodore, Johnny, Ken, and Ralph Midcalf and her stepson Tom Meyer.
The family would like to extend a special thanks to Dr. Hassan, Erin and Darci for the excellent care Barbara received during her cancer treatment. They are grateful to Jeanie and Bob Quinn for their love, support and friendship for the past 30 years and the Doyle family for providing their care in Barbara's final days.
FUNERAL: Funeral Service will take place at 1:30 p.m. on Sunday, November 13, 2022 at Deisler Funeral Home, 2233Hemmeter Rd. (off State). Rev. Fr. Richard Bokinskie will officiate. Rite of committal will privately take place in Roselawn Memorial Gardens.
VISITATION: Friends are welcome to visit at the Deisler Funeral Home on Sunday, November 13, 2022 from 12:00 p.m. until the time of the service.
MEMORIALS: In lieu of flowers, those planning an expression of sympathy may wish to consider memorials to Covenant Cancer Care Center, 5400 Mackinaw Rd, Saginaw MI 48604. Deisler Funeral Home is honored to be serving the Meyer family. Please share your thoughts and memories with the family at the funeral home or through www.DeislerFuneralHome.com