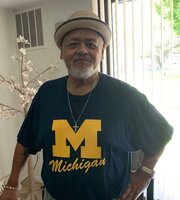 Noel P. Hernandez
Noel P Hernandez beloved father, grandfather, brother, friend passed into the arms of our Lord on Thursday, October 27th 2022. He was born in Saginaw Michigan March 17th, 1952 to the late Socorro and Guadalupe (Perez) Hernandez. Noel retired from General Motors UAW 699, Saginaw, Michigan in 2003 after over 30 years. He loved his family and was a huge music buff, avid reader and in his early years he enjoyed running.
Noel is survived by his children; Norma Jean Hernandez (Tom Aguirre), Noel Hernandez JR (Danielle Dartey), Jacob Hernandez (Ann Finn Hernandez), Diana Faith Gonzales (Charles Gonzales), Tanya Marie Ball (Jesse Ball), friend; Elvia Lilly Gutierrez, brother; Jerry Hernandez,15 wonderful grandchildren; Ariel, Sydney, Bianca, Ethan, Raquel, Michael, Onaleigh, Andres, Diego, Trinity, Nadia, Bella, David, Christian and Brendan.
He was preceded in death by his parents Socorro and Guadalupe Hernandez, siblings Toye Osuna, Mary Reyes, Angie Cruz, Gino P Hernandez.
I have fought the good fight, I have finished the race, I have kept the faith. 2 Timothy 4:7.
FUNERAL: A Funeral Service for Noel will take place Thursday, November 10, 2022 at 4:00 p.m. from Deisler Funeral Home, 2233 Hemmeter Rd. (off State) Saginaw, MI 48603.
VISITATION: Friends and family are welcome to visit Deisler Funeral Home on Thursday, November 10, 2022 from 2:00p.m. until the time of service at 4:00 p.m.