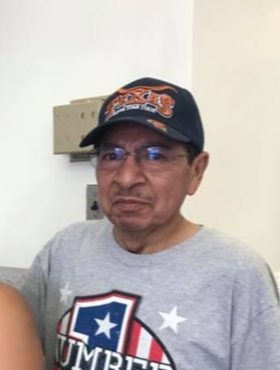 Jose Saucedo
Saucedo, Jose age 71 passed away peacefully Tuesday, November 1, 2022 at his home with his family by his side. Jose was born on October 5, 1951 in Saginaw, Michigan the son of Luciano and Amelia (Rodriquez) Saucedo. He was united in marriage to Maria Gonzalez in 1973 in Saginaw, Michigan.
Jose retired from Delphi in 2001 after 30 years of loyal service. He enjoyed listening to Tejeno music, going to dances, bowling and especially being with family and going to any family celebration. Jose also enjoyed traveling; whether it be going up north, down to Texas or to the casino. He loved watching football and baseball.
Jose is survived by his loving wife Maria of 49 years, children; Jose II (Rachel), Juanita, Teresa and Monica Saucedo, grandchildren; Celestina, Luis Rey, Jose III, Julianna, Julissa, CasSandra, Shania, Deandra, Jose, Adrian and Alyssia, great-grandchildren; Ayanna, Roemello and Amara, siblings; Rosa Hubbard, Gloria Olivarez, Jesus Sausedo, Luciano Sausedo, Juan Sausedo, Martha Villareal and Mario Sausedo, special niece; Diana Zamora and numerous nieces, nephews and dear friends. Besides his parents, Jose was preceded in death by four siblings; Julia Cirilo, Enrique Sausedo, Rudy Sausedo and Mary Saucedo.
FUNERAL: A Memorial Mass will take place Tuesday, November 8, 2022 at 11:00 a.m. from St. Joseph Catholic Church, 910 N. 6th Ave. Saginaw, MI 48601. Rev. Fr. Frank Voris OFM Cap to officiate. Inurnment to follow in Mt. Olivet Cemetery.
VISITATION: Family and friends are welcome to gather on Monday, November 7, 2022 from 2:00 p.m. until 4:00 p.m. and 5:00 p.m. until 8:00 p.m. A Vigil for the Deceased will take place at 7:00 p.m. Visitation will continue at the church on Tuesday, November 8, 2022 from 10:00 a.m. until the time of service.
MEMORIALS: Those planning a memorial contribution are asked to consider St. Joseph Catholic Church.
Deisler Funeral Home is honored to be serving the Saucedo family; Please share your thoughts and memories with Jose family at the church, funeral home or through www.DeislerFuneralHome.com