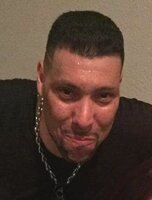 Alexis "Alex" Villada
Villada, Alexis "Alex"
Saginaw, Michigan
Our beloved son, father, grandfather, partner, sibling and dear friend passed away unexpectedly at his home on Monday, October 31, 2022. He was 51 years old. Alexis Villada was born on June 25, 1971 in Chicago, Illinois to Carmen G. (Pena) and Pedro Villada. He attended Mather High School in Chicago. Following school he worked in construction, and moved to Saginaw in 2000. Alex continued to work as a carpenter, within the construction industry in Saginaw. His quick wit and love for his family will be greatly missed.
Alex is survived by his mother, Carmen (Nick) Zitko; life partner, Marcy McCloskey; children: Alexis (Katelyn) Villada, Isacc Torres, Nick Villada, Chloe Cherry and Carmen Villada; grandchildren: Kinsley and Alijah; siblings: David (Shirley) Zitko, Sonia (Steve) Demetro and Luke Zitko; many extended family and dear friends.
He was preceded in death by his father, Pedro Villada.
FUNERAL: A funeral service for Alex will be held at 11:00 a.m. Friday, November 4, 2022 at Deisler Funeral Home, 2233 Hemmeter Rd. (off State), Saginaw, MI 48603. Pastor Rick Cunningham will officiate with burial to follow at Oakwood Cemetery.
VISITATION: Family and friends will gather at the Deisler Funeral Home on Thursday, November 3, 2022 from 4:00 p.m. until 9:00 p.m. Visitation will continue on Friday from 10:00 a.m. until the time of the funeral service.
MEMORIALS: In lieu of flowers, those planning an expression of sympathy may wish to consider a donation to the Villada Family c/o Marcy McCloskey. Please share your thoughts and memories with the family at the funeral home or through www.DeislerFuneralHome.com