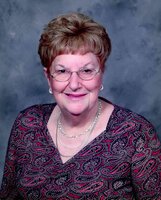 Rosalie K. Kapke
Kapke, Rosalie Kay
Saginaw, Michigan
Rosalie Kay Kapke passed away peacefully on Thursday, October 27, 2022 at Union Court Assisted Living in St. Charles. She was 91 years old. Rosalie Kay Douglas was born on January 12, 1931 in Elkview, West Virginia to the late Alfred and Chloie (Strickland) Douglas. In her early years she worked at her father's Dime and Pop Store and later was a manager at the movie theater in Charleston, West Virginia. Rosalie moved to the Saginaw area in her early 20's where she met and married, John L. Kapke in 1954 and he preceded her in death, October 4, 1970. She enjoyed calling Bingo at the Buena Vista Senior Center where she made many good friends. Rosalie was a faithful member of Old Town Christian Outreach Center.
Rosalie is survived by many dear friends. She was preceded in death by her parents, husband, John and three children.
FUNERAL: A funeral service will be held for Rosalie at 4:00 p.m. Monday, October 31, 2022 at Deisler Funeral Home, 2233 Hemmeter Rd. (off State), Saginaw, MI 48603. Rev. Bill L. Bodnar will officiate. Private entombment will take place at Oakwood Mausoleum.
VISITATION: Visitation for Rosalie will be held at the funeral home on Monday, October 31, 2022 from 3:00 p.m. until the time of service.
MEMORIALS: In lieu of flowers, those planning an expression of sympathy may wish to consider a donation to Old Town Christian Outreach Center. Please share your thoughts and memories with the family at the funeral home or through www.DeislerFuneralHome.com