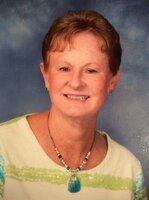 Suzanne C. "Sue" Wagner
Suzanne (Sue) C. Wagner, 75, passed away peacefully Saturday morning October 22, 2022, in Florida surrounded by her two children and daughter-in-law. She was born March 4, 1947, in Saginaw, Michigan to the late Madaline (Richards) Losee. She married Milan (Mike) Wagner on April 29, 1967; he preceded her in death on April 16, 1985. She raised her two children in Freeland, Michigan and worked many years at the Freeland Post Office where she retired. She later married Fredrick (Jack) Reithel on March 13, 2013; he preceded her in death on July 4, 2022. She subsequently relocated to Venice, Florida where she enjoyed the sunshine, searching for shark's teeth and making new friends.
Sue enjoyed doing many crafts; from ceramics early on (which were shared with her children's classmates), to her most recent endeavor of Art Impression Watercolor Cards. She took pride in all that she created; as she should have, they were all created with a special kind of love.
Sue is survived by her adoring children: Matthew (Dawn) Wagner and Jennifer Wagner, along with her stepchildren: John (Janet) Reithel and Jim (Chris) Reithel. Her grandkids: Alyssa Kaminski, Gavin Wagner, Colton Kaminski, and Riley Wagner; all of which she would brag about proudly because she loved them so much. She also leaves behind her sister-in-law Nancy Pechtel.
Sue was preceded in death by her brother (Richard Slavin), her sister (Yvonne Harlow), and her brother-in-law (Robert "Bob" Pechtel).
To those who knew her, Sue will always be remembered for her selfless, caring heart and acts of kindness. She was beyond special and touched the hearts of many people she met along her life's journey. We may grieve, but she will be forever ingrained in our hearts.
FUNERAL: A memorial service for Sue will be held at 11:00 a.m. Friday, November 11, 2022, at the Deisler Funeral Home, 2233 Hemmeter Rd. (off State) Saginaw, MI 48603. Fr. Andy Booms will officiate. Private interment will take place at St. Andrews Cemetery.
VISITATION: Family and friends will gather at the funeral home on Friday November 11, 2022, from 9:00 a.m. until the time of the service at 11:00 a.m.
MEMORIALS: In lieu of flowers, those planning an expression of sympathy may wish to consider donating to the Pulmonary Fibrosis Foundation. https://fundraise.givesmart.com/vf/PFFTribute/SuzanneWagner