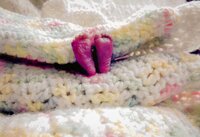 Everleigh Joy Cordingly
Baby Everleigh Joy Cordingly, beloved daughter and sister was born safely into the arms of Jesus on Friday morning, September 16, 2022 at Covenant HealthCare in Saginaw. She is survived by her parents Kevin and Jessica (Hubbell) Cordingly; siblings, Allison, Isabella, Faith, David and Harrison; grandparents David and Darlene Cordingly & Wayne and Kathleen Hubbell; great grandfather, Earl Gilginas and many aunts and uncles. Our lives have been touched by the anticipation of her arrival and has brought us great joy. Please keep us in your thoughts and prayers as we mourn the loss of our baby girl who was so wanted and so loved.
There will be a private memorial service held for immediate family at a later date. Burial will take place at St. Andrew Cemetery in Saginaw. If you wish to make a donation in her name, please consider donating to Covenant Kids.