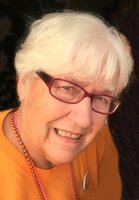 Alice M. Champagne
Champagne, Alice M.
Caseville, Michigan
Alice Martha Champagne, 87, formerly of Saginaw Twp., departed this life on Monday, September 19, 2022 at Barton Woods Assisted Living, Freeland. Alice Martha Kubacki was born on July 12, 1935 in Ubly, Michigan to the late John and Clara (Gosgenski) Kubacki. On October 22, 1955, she was joined in holy matrimony to Irvin Francis Champagne at Saint John Church in Ubly, Michigan. He preceded her in death on June 19, 2020. Together Alice and Irv raised their children in Saginaw. During retirement they spent many years in Caseville where she was actively involved at Our Lady of Perpetual Help Parish (St. Roch Catholic Church). It was here that she shared her love and faith with many youth. Alice was also a member of the Caseville Eagles Club and the American Legion Auxiliary as the Sergeant-At-Arms. She enjoyed dancing at Caseville Cheeseburger Days, fishing and playing Euchre. The memories that Alice made with family and friends will forever be cherished.
Alice is survived by her children: Joan (Brian) Pickelman of Freeland, Renee Muirhead of Georgetown, TX, Lisa (John) Fallis of Saginaw, and Brian (Kimberly Nicholson) Champagne of Rocky Top, TN; Alice leaves behind several grandchildren and great grandchildren.
She was preceded in death by her parents; husband, Irv; daughter, Sharon Champagne; her son-in-law, James Muirhead, siblings: Susan, Cecelia, Henry, Clemens, Stephanie and Roman.
The family would like to extend a special thank you to the staff at Barton Woods Assisted Living for the love, care and support they gave to both Alice and her family. They wish them only the best and quieter days ahead.
SERVICE: A Funeral Liturgy will take place at 11:00 am on Saturday, October 1, 2022 at St. Agnus Catholic Church, 300 Johnson St, Freeland, MI 48623, with Rev. Fr. Christian Tabarer officiating. A private burial will take place at Great Lakes National Cemetery at a later date.
VISITATION: Friends are welcome to visit with the family at St. Agnus Catholic Church on Saturday, October 1, 2022 from 10:00 am until the time of service.
MEMORIALS: In lieu of flowers, those planning an expression of sympathy may wish to consider a donation to Breast Cancer Foundation - Susan G. Komen. Please share your thoughts and memories with the family at the church or through www.DeislerFuneralHome.com