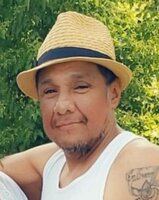 Manuel S. "Pap" Chacon
Chacon, Manuel S. "Pap"
Saginaw, Michigan
Our loving son, father, grandfather, brother, uncle and dear friend passed away peacefully at his home, surrounded by his family on Tuesday, September 20, 2022. He was 53 years old. Manuel Salas Chacon was born on January 19, 1969 in Saginaw, to Ramona (Salas) and Felisiano Chacon Sr. Manuel was the baby of twelve children growing up in Buena Vista Township. He loved to fish, play softball and cook, with his specialty being fish frys and grilled pork chops. Manuel enjoyed spending time with his family, making memories at every event. He could often be found having a cold beer under the shade tree with family listening to Mexican music.
He is survived by his mother (and dance partner) Ramona Chacon; children: Stephanie Chacon and Manuel Jr. (Velia) Chacon; thirteen grandchildren: Miguel, Mercedes, Alexis, Derek Jr., Brezlyn, A'Janai, Isla, Andrea, Manuel III, Lauren, Natalia, Ava and Eva; siblings: Julia (Richard) Gomez, Mary Cortez, Lenora (Leonard) DeLaCruz, Alice (Jesse) Hernandez, Stella (Tony) Martinez, Janie Sanchez, Felisiano Jr. (Becky) Chacon, Jesse Chacon and John (Rosie) Chacon; special nieces and nephews: Ruby "Chevy" Rodriguez, Lydia "Partner" Cortez, Nina "Nay" Gomez, Richard "Ricky" Gomez Jr., Mario "Toad" Gomez, Angel "Pus" Rodriguez, Juan "Squally" Chacon, Chano "Chan Chan" Chacon, Julio Gonzalez IV, Otis Lee "Odie" Cortez; special friends: Chuck Gilbert, Julian Garcia, Juan "Perm" Saucedo Jr. and Clarence "Boo" Russell; his beloved dog, Brownie Wownie Chacon; also many additional nieces, nephews, extended family and dear friends.
Manuel was preceded in death by his father, Felisiano Chacon Sr.; brother, Jose Chacon and Reymundo Chacon; nephews, Marcos Chacon, Eduardo "Honey" Rodriguez, Gregory Agee Jr., Marcelino "Lino" Olivarez and Michael Cortez; and nieces: Valencia Martinez, Ciara Medina and Linda Teneyuque.
SERVICE: A funeral service will be held at 3:00 p.m. Saturday, September 24, 2022 at Deisler Funeral Home, 2233 Hemmeter Rd., Saginaw, MI 48603. Joseph Trevino will officiate. In keeping with Manuel's wishes, cremation will follow the funeral service.
VISITIATION: Family and friends will gather at the funeral home from 1:00 p.m. until the time of service at 3:00 p.m. on Saturday, September 24, 2022.
MEMORIALS: Those planning an expression of sympathy may wish to consider a donation to Manuel's family c/o Stephanie Chacon. Please share your thoughts and memories with the family at the funeral home or through www.DeislerFuneralHome.com