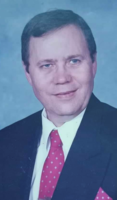 Robert K "Bob" Henne Sr.
Bob passed away in the Philippines after a lengthy battle with Parkinson's Disease. He was born October 29, 1946 in Saginaw, MI to Wyner and Ruth Henne. Surviving are his wife of 29 years, Ramonita (Janet) Ballesteros Henne of the Philippines; three sons, Robert K. Henne, Jr. (Therese) of Saginaw, Dustin A. Henne of Clearwater, FL formerly of Saginaw, and Nicholas Henne of the Philippines; 5 grandchildren, Robert K. Henne, III and Ryan Henne of Saginaw, Madison, Mackenzie, and Macauly of Florida; his siblings, Maurice (Chris) Henne of Freeland, Gary (Bernadette) Henne of Saginaw, Richard (Debra) Henne of Fort Myers, FL, Kathleen Henne-Rutz of Cleveland, TN and Sheila Henne-Dambro of Freeland; also many nieces, nephews, cousins and in-laws. He was predeceased by his parents, his son Darren Henne, brother Mark Henne, nieces Kristi Bujouves and Melissa Henne, brother-in-law Roger Rutz, and his father-in-law and mother-in-law.
Bob graduated from Buena Vista High School in 1964 then joined the U.S. Navy serving until his Honorable Discharge in 1968. He was a Radioman on the USS Enterprise off the coast of Vietnam. After his discharge from the Navy, he began working at the U.S. Post Office in Saginaw for many years. He and his family left Saginaw for warmer weather in Florida where he eventually went to work for the VA Administration as a Benefits Counselor at Camp LeJeune from where he retired. After retirement, he and his wife moved to the Philippines to be nearer to his wife's family.
A Memorial Service/Celebration of Life is to be held at a later date as funeral services are being held in the Philippines.