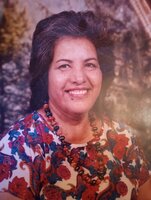 Adela Mendoza
Mendoza, Adela Morales, age 80 passed away Tuesday, September 6, 2022 at Hoyt Nursing & Rehab Center. Adela was born January 3, 1942 in Lorado, TX the daughter of Francisco and Paula (Luna) Morales. She was united in marriage to Abel S. Mendoza; he preceded her in death. Adela enjoyed cooking, reading and spending time with her family; but most of all she enjoyed giving her time to her church and was known to be very active and going above and beyond for her church family. Adela will be remembered for her service and dedication to her church and community.
Adela is survived by her son, Abel Mendoza Sr. and a granddaughter, Brianna Mendoza, brother and sister, Rita Villarreal and Jose Morales. Besides her parents, Adela was preceded death by her husband Abel, a grandson, Abel Mendoza, Jr and brother, Antonio Morales.
FUNERAL: A funeral service for Adela will take place Wednesday, September 14, 2022 at 11:00 a.m. at Harvest Assembly of God, 625 S. 17th St. Saginaw, MI 48601. Rev. Jerry Flores will officiate. Interment to follow in Eastlawn Cemetery.
VISITATION: Family and friends are welcome to gather at the Harvest Assembly of God on Wednesday from 10:00 a.m. until the time of service.
MEMORIALS: Those planning a memorial contribution may consider memorials to Harvest Assembly of God.
Deisler Funeral Home is honored to be serving the Mendoza family; condolences may be expressed to the family at the church or by visiting www.DeislerFuneralHome.com