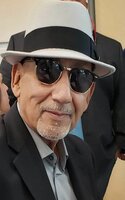 Rogers Gomez
Gomez, Rogers
Saginaw, Michigan
Our beloved father, grandfather, great-grandfather, brother, uncle and dear friend passed away unexpectedly on Thursday, September 1, 2022. Age 76 years. Rogers Gomez was born on March 9, 1946 to the late Isabel (Ugartechea) and Enrique Gomez in Saginaw, Michigan. Rogers graduated from Saginaw High School in 1964, and then proudly served in the United States Air Force, during the Vietnam War, stationed in San Antonio, TX, Germany and England. Upon Rogers' return from the Air Force he worked for General Motors while continuing his education at Delta College and Saginaw Valley. He worked as an X-ray Technologist and Cardio Pulmonary Technologist in the Cath Lab at Covenant HealthCare, retiring in 2011. He married Angelita Llamas on December 29, 1989, who preceded him in death on August 12, 2011. Rogers held membership with the Masonic Lodge and the V.F.W. He enjoyed fishing, golfing, and bowling, but most of all he loved to spend time with his family and friends.
Rogers is survived by six sons: Rogers Anthony (Michelle) Gomez, Jason Gomez, Michael Gomez, Daniel (Josephine) Stevens, Josh Bhirdo, Kevin (Lindsay) Bhirdo; 15 grandchildren; 3 great grandchildren; siblings: Daniel (Gloria) Gomez, Gilbert (Minerva) Gomez and Robert Gomez; sister-in-law: Guadalupe Gomez; many nieces, nephews, extended family and dear friends.
Rogers was preceded in death by his parents, his wife, Angie; brother, Richard Gomez.
SERVICE- A funeral service for Rogers will be held at 6:00 p.m. Friday, September 9, 2022 at the Deisler Funeral Home, 2233 Hemmeter Rd. (off State). Deacon Librado Gayton will officiate. Military honors under the auspices of the United States Air Force and American Legion Post #22 will immediatly follow the service on Friday. Private burial of Rogers cremated remains will be held at Oakwood Cemetery.
VISITATION: Family and friends will gather at the Deisler Funeral Home, 2233 Hemmeter Rd. (off State) on Friday, September 9, 2022 from 2:00 p.m. until the time of service at 6:00 p.m.
MEMORIALS- Those planning an expression of sympathy may wish to consider memorials to the Gomez Family c/o Michael Gomez.
Please share your thoughts and memories with the family at the funeral home or through www.DeislerFuneralHome.com