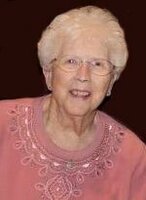 Lois Rice
Rice, Lois Shirley
Saginaw, Michigan
Passed away peacefully on Thursday, August 18, 2022 at Brian's Hospice House in Essexville surrounded by her family. She was 96 years old. Lois Shirley Wellendorf was born on April 21, 1926 in Saginaw to the late Hattie (Labuda) and Elmer Wellendorf. She married the love of her life, Kenneth Verne Rice on April 7, 1950 in Angola, Indiana. He preceded her in death on November 12, 2019.
Lois took great pride in being a mother to Pam and a homemaker. She loved decorating for every holiday, entertaining and cooking. Lois made the best potato salad around. Lois loved spoiling anyone she was with either shopping or going out to lunch. One of the titles she most treasured was being called Grandma Lois and it was by many. She especially loved spending her days with Gabby Fisk, Oliver, Easton and Everly Todd from the time they were little. Whey will miss her dearly.
Lois is survived by her daughter, Pamela Erskine; nephews and nieces: Joe (Dee) Bliss, LeAnne (Dave) Coutz and family, Andy (Jennifer) Hill and family; extended family: Don and Joan Fisk and Family, Darlene and Todd Douglass and family, Denise Walworth and family, Dorothy and Pat Leddy and family, Dale fisk and family, Kevin and Jennifer Fisk and Family.
Lois was preceded in death by her parents; husband, Kenneth V. Rice; her sisters, Lorraine Crockette and Reane Bliss.
The family wishes to express special thanks and appreciation to Denise Walworth, Ashlie and Jeff Todd and Andrew Fisk for all of their support for Lois
In keeping with Lois' wishes, cremation has taken place. A Celebration of Life Dinner will be held at a later date.
MEMORIALS: In lieu of flowers, those planning an expression of sympathy may wish to consider a donation to Brian's House, 664 W Nebobish Rd, Essexville, MI 48732. Please share your thoughts and memories with the family through www.DeislerFuneralHome.com.