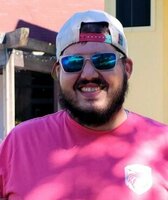 Frederick William "Freddie" Culver IV
Frederick "Freddie" William Culver IV has unexpectedly passed away at the age of 26 on Thursday, August 18, 2022. Fred was born November 23, 1995 in Saginaw, Michigan. Fred is the son of Frederick Culver III and Kristine Culver. He enjoyed playing cards, video games, jamming to music, and making his own personal music videos in his car. He will always be remembered for having an infectious smile, a laugh no one can forget, making sure everyone was fed and hydrated, and being the life of the party. Fred enjoyed spending time with family, friends and his children who meant the world to him.

Frederick is survived by his parents; Frederick Culver III and Kristine Weiers, his two children; Lotus and Lenox Culver, brother; Noah Culver, grandmother; Nancy Weiers, aunts and uncles; Jim (Michaela Blankenship) Culver, Cora (Bryce) Gazella, Tiffany (Rick) Alvarado, Ken (Vicki) Weiers, Melissa (Russ) Morgan, close friends; Victor Diaz II, Nicholas Trigg, Abbey Miller, cousins Travis Megan, Steven Culver, Kenneth, Thomas Gazella, Ashley Hatheway Angel, Billie, Crystal Alvardo, Raechal Call, Lyndsi, Christian Weiers Madison, Mackenzie Morgan, Teddy and Ciara Weiers and many more friends. Predeceased by grandparents Fredrick II and Jacqueline Culver, Fred Weiers, uncles Christopher and Thomas Culver, Fredrick Weiers. Cousin Austin Culver.

FUNERAL: A Memorial Service for Freddie will take place Sunday, August 28, 2022 at 3:30 PM from Deisler Funeral Home. Pastor Julie Bailey to officiate.

VISITATION: Family and friends are welcome to gather at Deisler Funeral Home Sunday, August 28, 2022 from 11:00 AM until the time of service.

MEMORIALS: In lieu of flowers; those planning a memorial contribution are asked to consider a memorial fund for his children, Lotus and Lenox. C/O Frederick Culver III.

Deisler Funeral Home is honored to be serving the Culver family; to share a condolence or memory with Fred's family please visit the funeral home or www.DeislerFuneralHome.com