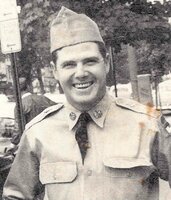 Gerald L. Redburn
REDBURN, Gerald L. of Marion Springs, formerly of Indiantown, passed away peacefully on Sunday, August 14, 2022 at Union Court Assisted Living in St. Charles, surrounded by his family. He was 87 years old. Gerald L. Redburn was born on January 12, 1935 in Saginaw, Michigan to the late Leonard and Leona (Pretzer) Redburn. Rev. Fr. Joseph Favara married Yvonne and Gerald L. Redburn on September 24, 1960 in Saginaw. Yvonne preceded Gerald in death on February 4, 2010. He proudly served his country in the United States Army. After many years Gerald retired from General Motors V8 Engine, working as a machine repairman. He was a member of the Marion Springs Gun Club and Mid-Michigan Old Gas Tractor Assoc. Gerald enjoyed hunting, fishing, playing euchre, tractor pulling and flying small planes.
Surviving are seven children: Craig L. Redburn, Paulette R. Counts, Alan R. (Shannon) Redburn, Douglas E. Redburn, Jodi L. (John) Hayes, Keith E. Redburn and Jessica L. Redburn; 16 grandchildren: Zachary, Ashley, Brittany, Nicholas, Collin, Brady, Seth, Braxton, Brenna, Paige, Sarah, Colleen, Kade, Jacob, Shawn and Mikaela; 25 great-grandchildren; and a sister, Janice Perkins. Gerald was preceded in death by his wife, Yvonne, great grandson, Zachary Counts II and two sisters, Shirley Kabobel and Carol Moe.
FUNERAL: Gerald's Funeral will be held at 6:00 p.m. on Thursday, August 18, 2022 at Deisler Funeral Home, 2233 Hemmeter Rd. (off State) Saginaw, MI 48603. Pastoral Assistant Sharon Wahl will officiate. Private burial will take place in Marion Township Cemetery, Marian Springs, Michigan.
VISITATION: Family and friends may call at the Deisler Funeral Home, 2233 Hemmeter Rd. (off State) on Thursday, August 18, 2022 from 3:00 p.m. until the time of service.
MEMORIALS: Those planning an expression of sympathy may wish to consider memorials to Union Court Assisted Living. Please feel free to share your thoughts and memories with Gerald's family at the funeral home or through www.DeislerFuneralHome.com.