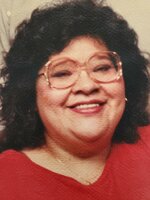 Maria Theresa "Theresa" Esparza
Esparza, Maria "Theresa", age 70, of Saginaw, Michigan passed away peacefully on August 9, 2022 with her oldest son by her side. Theresa grew up in Saginaw Michigan the daughter of Genaro Peña and Juanita Botello on July 15, 1952. She enjoyed the culinary arts, going places and socializing. She enjoyed tasting new foods and loved authentic Mexican cuisine. Theresa will be dearly missed and always remembered.
Theresa was preceded by her father, Genaro Peña and two brothers. Theresa is survived by her mother Juanita Botello, six siblings along with nine additional siblings in Texas, her children, Jessie Peña, Guadalupe Peña, Dolores Martinez, Abel Peña, Lisa Esparza and SanMiguel Esparza Jr, 21 grandchildren and 19 great-grandchildren.
Theresa's family celebrates her life by honoring her recent wish. She spoke with her oldest son about wishing her family would love one another and cherish the moments they still have. She also stated that she was glad she lived a wonderful 70 years. Her children stated "She was the strongest willed person they ever knew."
In keeping with Theresa's wishes cremation has taken place and no services are being planned.
Deisler Funeral Home is honored to be serving the Esparza family; Please share your thoughts and memories with the family by visiting: www.DeislerFuneralHome.com