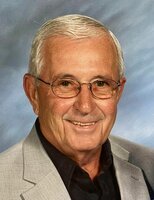 Joseph Gerald "Joe" Dashner
Dashner, Joseph Gerald "Joe"
Saginaw Twp., Michigan
Our loving husband, father, grandfather, brother, uncle, and dear friend passed away peacefully on Tuesday, August 9, 2022. He was 90 years old. Gerald Joseph Dashner was born April 21, 1932 in Saginaw to the late Fred and Irene Dashner. Joe graduated from St. Mary Cathedral High School, where he played football and sang with the Glee Club. He was also a member of the "Three Gentlemen" song and dance group, performing at school functions and at the Masonic Temple in Saginaw. Joe then worked for American District Telegraph Company (ADT) as an intern, taking classes in management. He proudly served his country with the United States Army - Tank Division during the Korean War. When Joe returned from the service he married his sweet heart, Margaret Brieske. Margaret wrote letters to Joe every day while he served in the military, and they were married on April 30, 1955. In 1990, Joe retired as an Area Manager for ADT Security. During retirement he worked part-time for Twin Oaks Golf Course and delivered Meals On Wheels in Saginaw County. Joe was the "go to" person in the neighborhood for repairs and electrical problems. He greatly enjoyed woodworking, gardening, and golf. Joe was a faithful member of St. Dominic Catholic Parish and was active within St. Peter and Paul Athletic Department. He also delivered Christmas Gifts to the church shut-ins.
Joe is survived by his wife, Margaret Dashner; children: Frederick (Meri) Dashner, Diane (James) Finelli, David (fiancée, Kelly LaFleur) Dashner and Amy (Kevin) Steinbauer; grandchildren: Megan (fiancé, Andrew), David (fiancée, Meagan), Skye, Sierra (fiancé, Timmie), Joseph "JT" and Taylor (Tom); four great grandchildren: Jaxon, Alex, Magnus and Jameson; sisters-in-law, Betty Dashner and Carolyn Lenhard; many nieces, nephews, extended family and special cousin, Fr. Ronald K. LeFleur.
Joe was preceded in death by his parents; and brother, John Dashner.
Joe's family would like to extend a heartfelt thank you to the staff of Brookdale Senior Living for the wonderful care and assistance provided to Joe during his stay.
FUNERAL: A funeral liturgy will be held at 11:00 a.m. Saturday, August 13, 2022 at St. Dominic Catholic Parish – St. Stephen Catholic Church, 1310 Malzhan St., Saginaw, MI 48602. Rev. Fr. Steven M. Gavit and Rev. Fr. Ronald Keith LeFleur will co-officiate. Burial and military honors under the auspices of the United States Army will follow at St. Andrew Cemetery.
VISITATION: Family and friends will gather at the church on Saturday from 10:00 a.m. until the time of Mass.
MEMORIALS: Those planning an expression of sympathy may wish to consider a donation to St. Dominic Catholic Parish or St. Jude Children's Research Hospital. Please share your thoughts and memories with the family at the church or through www.DeislerFuneralHome.com