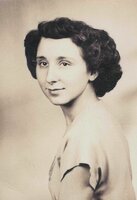 Donna J. Irion
Irion, Donna J.
Saginaw, Michigan
Our loving sister, aunt and dear friend was called home to be with her Lord on Tuesday, August 9, 2022. She was 91 years old. Donna Jean Irion was born on June 15, 1931 in Unionville to the late Maria (Bohn) and Herbert Irion. She attended Unionville High School, and enjoyed music and playing the trombone. She graduated in 1949, and willed her curiosity to the classes that followed her. Donna enjoyed many years on her parents farm in Unionville, working side by side with her father. She also worked in Bay City at one of the local banks. Donna attended the Moravian Church in Unionville, and lived in Unionville until her parents passed away. She was then cared for by her family and spent the last few years in Saginaw. Donna had a great love for cats, perhaps it was because of their curiosity.
She is survived by her sister-in-law: Ruth Irion; nieces and nephews: Patricia (Ivan) Forshee-Warman, Constance Martin, Terry Forshee, Lynelle (fiancé, Shane Babcock) Forshee, Valerie (Wayne) Hogan and Alan Irion; great nieces and great nephews: Tessa Warman, Sarah (Mark) Atkins, Rebecca (Chris) Stewart, Rachel (Tony) DeHate, Terry Forshee, Jessica Forshee, Devin (Kenya) Hogan and Kelsie Hogan; 10 great great-nieces and great great-nephews.
She was preceded in death by her parents; sister, Marilyn Forshee; and brother, Kenneth Irion.
FUNERAL: A funeral for Donna will be held at 1:30 p.m. on Saturday, August 13, 2022 at the Deisler Funeral Home, 2233 Hemmeter Rd. (off State) Saginaw, MI 48603. Rev. Paul Biber will officiate. Burial will follow at Unionville Moravian Cemetery in Unionville.
VISITATION: Visitation will be at the funeral home on Saturday, August 13, 2022 from 12:00 p.m. until the time of service at 1:30 p.m.
MEMORIALS: Those planning an expression of sympathy may wish to consider a donation to A&D Hospice. Please share your thoughts and memories with the family at the funeral home or through www.DeislerFuneralHome.com