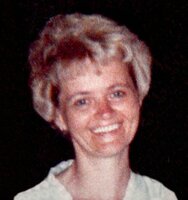 Dorothy Amelia "Dottie" Mahl
Mahl, Dorothy "Dottie"
James Twp., Michigan
Passed away peacefully at Ascension St. Mary's Hospital surrounded by her family on Sunday, August 7, 2022. She was 85 years old. Dorothy Amelia Krueger was born on July 1, 1937 in Saginaw to the late George and Iola (Ickes) Krueger. On July 7, 1979 Dorothy was united in marriage to her sweetheart and love of her life, Ralph Edwin Mahl Sr. Dorothy worked as an office manager for K Mart Corporation in Saginaw for over 30 years, retiring in 2000. Together they enjoyed traveling all through Europe, Canada and throughout the United States. For the past 20 years they enjoyed wintering in Port Aransas, TX. She was a faithful member of Ascension Lutheran Church. She enjoyed making needle point cross stich and these treasures she has gifted to many family and friends throughout the United States. Dorothy also made Swedish weave blankets, knitting, sewing, beaded crafts, and enjoying quiet time on her deck, and winter months in Texas. She especially loved walking the beach and collecting shells. Dorothy especially loved to spend time with her family, dear friends and the many canine companions she had throughout the years.
Dorothy is survived by her children: Michael (Carolyn) Davison, Jeffrey Davison and Jennifer Davison, Ralph Jr. (Tammy) Mahl; grandchildren: Rachel Bascom, Mikey Davison, Landon Davison, John Mahl and Brittany Mahl; 3 great grandchildren; sister, Rose Arnst, exchange student "Daughters": Stephanie Kroth of Germany, Rikke Nielsen of Denmark, Marta Rodin of Sweden, Flavia Sabate of Brazil, Annemette (Tomas) Nielsen of Denmark and her children: Kirstine, Nikolaj and Rasmus Jensen; Minori Yamaguchi of Japan; sisters-in-law, Beverly Brush and Karen (Charlie) Houghtaling; brothers-in-law: Gerald Mahl and David Mahl; many nieces, nephews, cousins and dear friends, Marion Marschner, John and Myrna Cammin, Shelia and Don Anderson.
Dorothy was preceded in death by her parents and a grandson, Ralph Mahl, III, and her sister, Betty Seiggreen.
FUNERAL: A funeral service for Dorothy will be held at 3:00 p.m. on Friday, August 12, 2022 at Deisler Funeral Home, 2233 Hemmeter Rd. (off State) Saginaw, MI 48603. Rev. Julie Bailey will officiate. According to Dorothy's wishes cremation will follow the funeral service.
VISITATION: Family and friends are welcome to visit with the family at the Deisler Funeral Home, 2233 Hemmeter Rd. (off State) on Friday, August 12, 2022 from 1:00 p.m. until the time of the funeral service.
MEMORIALS: In lieu of flowers, those planning an expression of sympathy may wish to consider a donation to the Ascension Lutheran Church or The Humane Society of the U.S. Please share your thoughts and memories with the family at the funeral home, church or through www.DeislerFuneralHome.com