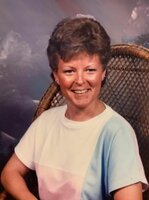 Sherry Lee Tucker
Tucker, Sherry Lee, of Saginaw, Michigan, passed away on Thursday, August 4, 2022 at home. She was 71 years old. Sherry was born on January 27, 1951 to Charles and Josephine Tucker. She graduated from Douglas MacArthur High School, Class of 1969, and earned a Bachelor of Arts in Criminal Justice from Saginaw Valley State University in 1991. Sherry was employed by Saginaw Township School District as a bus driver for many years.
Sherry was a loving mother, sister and grandmother. Her crazy sweatshirts and witty one-liners brought smiles to all who had the privilege of knowing her. She will be truly missed.
Sherry is survived by her three daughters: Annemarie Mancini, Tanya Lopez, Ashleigh (Mario) Valdez; nine grandchildren, four brothers: Charlie, Craig, Curt and Trevor Tucker; one sister, Stephanie Tucker; three sisters-in-law: Lori, Sally and Korina Tucker; and several nieces and nephews. She is preceded in death by her parents and two brothers, Steven and Colin.
Anyone wanting to honor Sherry's memory, can make a donation to Field Neurosciences Institute in Saginaw, Michigan at https://foundation.ascension.org/michigan/st-marys-of-michigan-foundation