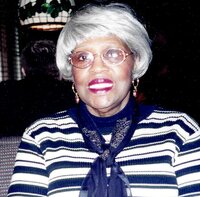 Dorothy H. Wright
Wright, Dorothy H. age 89 passed away Sunday, July 31, 2022 at Hoyt Nursing & Rehab Centre. Dorothy was born on February 27, 1933, the daughter of Mattie Lee. Dorothy was a longtime member of Grace Valley Church, formerly known as First Assembly of God. She was well known to her family and friends for all her cooking; especially her baking abilities. She enjoyed spending time with her family and friends enjoying a good meal and getting dressed up; she was also known for dressing to the nines. Dorothy was a one of a kind lady with a lot of class and will be dearly missed.
Dorothy is survived by her children, Prentis, Marlene (Elroy) Rhodes, Tammy, Melvin, Darrell and Tracy; 17 grandchildren; several great-grandchildren and many additional family and dear friends. Besides her mother Mattie, Dorothy was preceded in death by her second husband, Charles Wright; three children, Leaner Toni and an infant daughter, Dawn; and a grandson, Demarco Swilly.
FUNERAL: A Funeral Service for Dorothy will take place Friday, August 5, 2022 at 1:00 p.m. from Deisler Funeral Home, 2233 Hemmeter Rd. (off State) with Rev. Kurt A. Cullison to officiate. Interment to follow in Roselawn Memorial Gardens, Saginaw, Michigan.
VISITATION: Family and friends are welcome to gather at Deisler Funeral Home on Friday from 12:00 p.m. until the time of service.
MEMORIALS: Those planning a memorial contribution are asked to consider Grace Valley Church, 4570 Mackinaw Rd., Saginaw, MI 48603.
Deisler Funeral Home is honored to be serving the Wright family; to share a thought or memory with Dorothy's family please visit the funeral home or www.DeislerFuneralHome.com