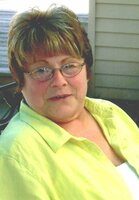 Mary Katherine Herzog
Herzog, Mary K.
Saginaw, Michigan
Loving wife, mother, grandmother, sister and aunt passed away on Monday evening, July 25, 2022. She was 81 years old. Mary Katherine was born June 28, 1941 in Saginaw, Michigan to the late Roy and Katherine (McInerney) Green. She married William Herzog on April 21, 1984 in Saginaw, Michigan. Mary attended St. Mary's High School, graduating in 1959. She was employed at the Dow Event Center in concessions for almost 50 years. She was a faithful and active member of St. Mary's Cathedral and later St. Thomas Aquinas Catholic Church for many years.
Her laugh and fun ways made her a joy to everyone. Mary loved cooking and gardening. She enjoyed being on her Kindle. Mary also enjoyed watching her TV shows and old movies. But, what Mary really loved most was spending time with her family, especially her grandchildren.
Surviving are her husband, William Herzog; children, Jennifer Skelcy, Michael (Liz) Peters, Kaitlin (Aaron) Herzog-Rift; grandchildren, Justin Peters and Nicholas Peters; sister, Judi Neering; brothers and sisters in-law, Sue Green, Barbara Green and Fred Neering; nieces and nephews, Michele Green, Ashley dos Santos, Kelly Royer, Katie Green, David Green, Bob Green, Kevin Green and many great nieces and nephews.
Mary was preceded in death by her brothers, Richard Green and Patrick Green; son in-law, Robert Skelcy and the father of her two oldest children, Richard Peters.
MEMORIAL SERVICE: A Memorial Service will take place at 10:30 a.m. Thursday, August 4, 2022 at St. Thomas Aquinas Catholic Church, 5376 State Street, Saginaw, MI 48603. Rev Fr. Richard A. Bokinskie will officiate.
VISITATION: Family and friends will gather at St. Thomas Aquinas Catholic Church, 5376 State Street on Thursday, August 4, 2022 from 9:30 a.m. until the time of service at 10:30 a.m.
MEMORIALS: Those planning an expression of sympathy may wish to consider memorials to St. Jude Children's Research Hospital.
Deisler Funeral Home is honored to serve the Herzog family. Please share your thoughts and memories with the family at the church or through www.deislerfuneralhome.com.