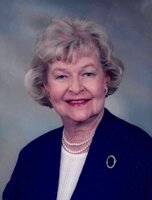 Jeanne A. Schirmer
Schirmer, Jeanne A.
Saginaw Twp., Michigan
Our beloved mother, grandmother, great-grandmother, sister and dear friend passed away peacefully at her home on Friday, July 22, 2022. She was 92 years old. Jeanne Ashbaugh Schirmer was born on December 8, 1929 in Pontiac, Michigan to the late Jeanette (Peterson) and Herbert G. Ashbaugh. She attended Arthur Hill High School, graduating in 1948. She graduated from DePauw University in Greencastle, Indiana, where she received her Bachelor's Degree. She married Charles A. (Chuck) Schirmer on January 17, 1953, and together they had five children, who were her pride and joy. Jeanne was a member of the Saginaw Club and also a member of Junior League and enjoyed many years involved in Garden Club. She loved to cook and play bridge. She traveled with her sister, Pat, and her sister's husband, Brad, to Europe on two river boat cruises and spent many memorable summers with her family at Point Lookout. Her family brought her the greatest joy and her life was devoted to them.
Jeanne is survived by her adoring children: Cindy Schirmer, Jim (Ann) Schirmer, Betsy (Bob) Fisher, Sally (Steve) Smith and Bill (Sandy) Schirmer; 14 grandchildren; two great grandchildren; sister, Patricia Ashbaugh Hubert; nieces, nephews, extended family and dear friends.
To those who knew her, Jeanne will always be remembered for her tender, caring heart. The family would like to extend a special thank you to Kathy Honeman for all her love and care over many years.
FUNERAL: A memorial service for Jeanne will be held at 4:00 p.m. Tuesday, July 26, 2022 at the Deisler Funeral Home, 2233 Hemmeter Rd. (off State) Saginaw, MI 48603. Jeanne's son, James Schirmer, will officiate.
VISITATION: Family and friends will gather at the funeral home on Tuesday from 2:00 p.m. until the time of service.
MEMORIALS: Those planning an expression of sympathy may wish to consider a donation to Amazing Grace Animal Rescue or an animal rescue of the donor's choice.
Please share your thoughts and memories with the family at the funeral home or www.DeislerFuneralHome.com