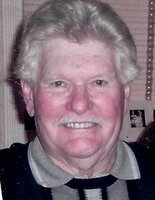 Harold Neil "Mac" McKellar
McKellar, Harold "Mac" N. age 89 of Hemlock, Michigan passed away Monday, July 18, 2022. Harold, born on February 11, 1933, lived in Beaverton, Michigan until his graduation in 1950 from Beaverton High School. He continued his education at Ferris State University graduating in 1954 with a bachelor's degree in pharmacy. Mac was a successful pharmacist and businessman, owning three drugstores and other businesses in Saginaw and practicing pharmacy for over 67 years.
Mac is survived by his loving wife of 17 years; Carolyn, two daughters; Cheryl McKellar and Paula Morgan, their mother Joyce Laviolette,; step-children; Duff Tinglan and Luann Solari, twin brothers; Robert (Deloris) McKellar and Richard (Karen) McKellar, a very special 'daughter', Ulrike Karmann;, a host of grandchildren, great-grandchildren and several nieces, nephews and cousins.
Preceding Harold in death are his parents, Cecil and Doris (Muscott) McKellar, former wife Carol (Durbin) McKellar, and stepson Jeff Tinglan.
Mac was a longtime member of Zion Lutheran Church in Hemlock, MI. He was also very active in many civic and community groups, including the Saginaw Valley Radio Control Club; where he was past president, teacher and mentor for many years. Mac loved being outdoors and was an avid hunter and fisherman; he was enthralled with airplanes at an early age and learned to fly very young. Most of all, Mac loved his family and enjoyed any time shared with them. He will be missed dearly.
Mac's family would like to express a special thank you to the caregivers at Pine Haven AFC, Heart to Heart Hospice, and all of his friends and family who visited with him at the AFC home
FUNERAL: A Celebration of Mac's life will take place Monday, August 8, 2022 at 1:00 pm at Zion Lutheran Church, 17927 Dice Rd., Hemlock, MI 48626. Pastor Paul Hauser to officiate.
VISITATION: Family and friends are welcome to visit at the church from 12:00 pm until the time of service.
MEMORIALS: Those planning a memorial contribution are asked to consider a memorial to Zion Lutheran Church.
Please feel free to share your thoughts and memories with Mac's family at the church or by visiting: www.DeislerFuneralHome.com