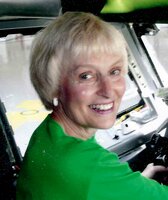 Evelyn S. Mudd
Mudd, Evelyn S., age 84, passed away Sunday, July 10, 2022 at Covenant Healthcare-Cooper with her husband holding her hand. Evelyn was born January 10, 1938 in Saginaw, Michigan, the daughter of Carl and Estelle (Wargacki) Shields. She graduated from St. Peter and Paul High School in 1956. She finished her schooling at the University of Michigan with a doctorate in Irish Studies. Evelyn retired from Delta College after teaching for many years in the English department. Evelyn was united in marriage to Thomas Mudd on November 30, 2002 at the Cathedral of Mary of the Assumption Catholic Church in Saginaw, Michigan.
During her long professional career, Evelyn held leadership positions in many organizations and groups: American Association of University Women (AAUW), Saginaw County Hall of Fame, Castle Museum of Saginaw County History, Rotary Club, Japanese Cultural Center and Tea House, Historic Preservation Society, and the City of Saginaw Historic District Commission, among others.
Evelyn enjoyed the challenges and learning offered by her extensive travels: Ireland (many times), China, Russia, Thailand, Turkey, Italy, Scandinavia, Bermuda, along with cruises to Alaska and the Caribbean, and tours on Route 66 and the Grand Canyon, and more.
Evelyn is survived by her loving husband of 20 years, Thomas, and her siblings: David (Evelyn) Shields, John (Barbara) Shields, Joseph Shields, William Shields, Katherine Sproull and Barbara Weaver, nieces and nephews: Priscilla, Monica, Jennifer, Casey, Austin, and a special great-nephew, Jack. Besides her parents, Evelyn was preceded in death by brother, Dennis, and sister, Dorothy.
FUNERAL: Funeral Mass for Evelyn will take place Friday, July 15, 2022 at 11:00 AM from the Cathedral of Mary of the Assumption Church, 615 Hoyt Ave., Saginaw, MI 48607. Rev. Fr. Prentice Tipton to officiate.
VISITATION: Family and friends are welcome to gather at Deisler Funeral Home, 2233 Hemmeter Rd. (off State) Thursday, July 14, 2022 from 5:00-8:00 PM and again at the church Friday morning from 10:00 AM until the time of service. A Vigil for Mary will be held Thursday evening at 7:00 PM.
MEMORIALS: Those planning a memorial contribution are asked to consider memorials to the Mudd Family Historic Preservation Fund at the Saginaw Community Foundation. Deisler Funeral Home is honored to be serving the Mudd family. Please share your thoughts and memories of Evelyn at the funeral home, the church, or by visiting www.DeislerFuneralHome.com