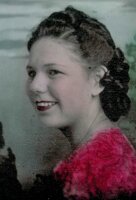 Blanche Marie Williams
Williams, Blanche Marie
Saginaw, Michigan
It is with deep sorrow and immense love that we announce the passing of Blanche Marie Williams, age 94, on June 23, 2022. Blanche was born and raised in the small town of Fostoria, married her husband, Harold, on March 13, 1946, and lived on their farm in Mayville, Michigan until Harold's death in 1992. She then moved to Caro and later to Saginaw, Michigan. Blanche worked hard all her life on the farm and always missed her life there and the town of Mayville. She enjoyed working outdoors, gardening, and continued to work in her little flower bed at her Saginaw apartment. Blanche was a loving mother, giving all she had to her family, and especially loved her great grandson, Cyril.
She was preceded in death by her husband, Harold Williams; her parents: Pearl Mildred Horning and Alfred Lewis Evans; brothers: LaMonde Ezra, Edward James, George and Floyd Evans. Blanche will be lovingly remembered by her daughter, Marie McInerney; sister, Dorothy Evans; grandsons: Duane (Heidi) and Todd McInerney; and great grandson, Cyril McInerney.
A private funeral has been held with burial in West Dayton Cemetery, Mayville, Michigan.