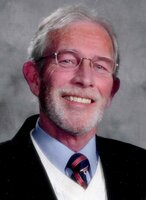 Russell D. Surgeson
Surgeson, Russell D.
Saginaw, Michigan
Loving husband, father and grandfather passed away on Wednesday afternoon, June 22, 2022 at Ascension St. Mary's in Saginaw. He was 73 years old. Russell Dana Surgeson was born on November 28, 1948 in Saginaw, Michigan to the late Richard and Ruth (Hauffe) Surgeson. He married Ann Kretschmer on November 28, 1970 at St. Mary's Cathedral in Saginaw. Russell attended Delta College earning an associate degree. He worked in finance and as an insurance agent, retiring in 2012. Russell was a member of Delta Sigma Nu Fraternity for many years.
He loved spending time at his cottage on Crystal Lake. But, above all he loved spending time with his family.
Surviving are his wife, Ann Surgeson; children, Russell (Patricia) Surgeson Jr. and Molly (Jason) Desloover; grandchildren, Lincoln Desloover, Keith Surgeson, Eric Surgeson and Ashley Surgeson; one brother, Ronald A. Surgeson and many nieces and nephews.
GATHERING: Family and friends will gather at Deisler Funeral Home, 2233 Hemmeter Rd. (off State) on Thursday, June 30, 2022 from 4:00 p.m. until 6:00 p.m.
Deisler Funeral Home is honored to serve the Surgeson family. Please share your thoughts and memories with the family at the funeral home or through www.deislerfuneralhome.com