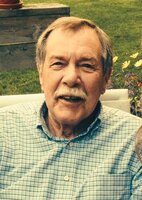 Gerald Mathew "Jerry" Dambro
Gerald Mathew Dambro, Jerry to all who knew him, passed away peacefully on Thursday, June 9th, 2022.
Jerry was a devoted husband and a generous father who was loved and admired by friends and family. He was born on June 19th, 1943 in Saginaw, to the late Dominic and Laura Dambro.
Like all good Catholic boys, Jerry served as an alter boy along with his older brother Danny and his younger brother Tim. Before graduating from St. Andrew High School class of "61", Jerry worked after school at his father's meat market. It was here, where he would later meet his future wife Rosanne. The woman he loved dearly, as he was fond of saying. Little did he know as he raced to be the one to carry her groceries, that he would one day make this stunning woman his wife.
Working alongside his father taught Jerry the value of hard work at an early age. Instilled with this strong work ethic, Jerry joined his older brother Danny in business after serving in the United States Army. Early on in their partnership his meat cutting skills learned from his father, came in handy, as he and his brother grew "Dambro's," from a small freezer & beef operation to several, thriving appliance stores well known in the tri- city area. A tireless worker, Jerry was never too proud to roll up his sleeves and do what was needed to get the job done.
A self-made man and a born salesman, Jerry later started "Space Magic," a successful custom closet company.
Joining dad in the family business several years later was his son Beau, who brought a new perspective to the company greatly appreciated by his proud father. Eager and energetic, dad was up with the roosters, his kids would joke, ready to hit the ground running doing what he loved best.
A huge football fan, Jerry took Sundays off to enjoy a cold beer and watch a good game often in the company of his sons. An excellent black jack player, Jerry and his wife Rosanne enjoyed their trips to Vegas to try their luck and see the shows. Well traveled despite his dedication to his business, Rosie was able to tear him away from time to time to the Caribbean as well as abroad with good friends and family.
An old school gentleman, Jerry always vacated his seat for a lady, and kept a freshly pressed handkerchief in his back pocket, ready for a tear stained face. Which his daughter Tiffany frequently accepted.
Whether reminiscing and joking with those closest to him or keeping abreast with current world news, Jerry lived life on his own terms with his faithful Golden Retriever, "Lucy," always by his side.
Jerry is preceded in death by his wife Rosanne. He is survived by his children: Fred Warner, Tiffany (Bradley) Tinsey, Beau Dambro, and Jarrod (Heather) Dambro; brothers: Danny (Terry) Dambro and Tim Dambro.
SERVICE: A private service is being held for Jerry at St. Andrew Cemetery, Saginaw.
MEMORIALS: In lieu of flowers, those planning an expression of sympathy may wish to consider a memorial contribution to the Multiple Sclerosis Foundation.
Arrangements have been entrusted to the Deisler Funeral Home, 2233 Hemmeter Rd., Saginaw, MI 48603. Please share your thoughts and memories with the family through www.DeislerFuneralHome.com