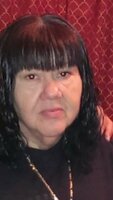 Sylvia Ortiz Mundo
Mundo, Sylvia Ortiz 61 years old passed away peacefully early Tuesday, June 7, 2022 with her family by her side. Sylvia was born on July 14, 1960 the daughter of Pedro and Olivia (Vallejo) Ortiz. She enjoyed doing yardwork and shopping. But most of all she loved spending time with her family; especially her nieces and nephews. She will be missed dearly.
Sylvia is survived by her brothers and sisters; Luz (Pedro) Gonzalez, Ricardo (Maria Delores) Ortiz, Ruben (Flor) Ortiz, Gabriel (Alicia) Ortiz, Velma (Bernardo) Castillio, Daniel (Maria Gumez) Ortiz, Laura Ortiz and Guadalupe (Francisco) Pinales, numerous nieces and nephews and dear friend, Barb. Besides her parents, Sylvia was preceded in death by her partner, Rodney Ledbetter.
VISITATION: Family and friends are welcome to gather at Deisler Funeral Home, 2233 Hemmeter Rd. (off State) on Friday, June 10, 2022 from 2:00 PM until 8:00 PM.
MEMORIALS: Those planning a memorial contribution are asked to consider the "Wishes of the Mundo Family" In care of Luz Gonzales.
Deisler Funeral Home is honored to be serving the Mundo family; To share a thought or memory with the family please visit: www.DeislerFuneralHome.com