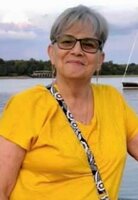 Maria de los Angeles Bilodeau
Bilodeau, Maria de los Angeles Rosa Sierra of Saginaw, Michigan, formerly of Queens, New York passed on June 2, 2022 in Covenant Hospital in Saginaw, Michigan. She was 73 years old. Maria was born on March 9, 1949 to Julio Rosa Lugo and Filomena Sierra in Manati, Puerto Rico. She married Michael Robert Bilodeau on February 27, 1972 at St. Francis de Sales in Manhattan, New York. She was a Roman Catholic and a member of the Cursillo Movement.
Maria enjoyed living her life and going on vacation. She loved the beach, gardening, watching her grandkids at sporting events, praying for everyone, and even in her last few months of life she ministered to the hospital staff with love, smiles, and her testimony of her courageous journey.
Maria passionately and joyously devoted her love and time to her family. She will continue to live on through them. She is survived by her beloved husband, Michael. They recently celebrated 50 years of marriage together. Her daughters Susanna Dixon (husband, Terry), Melissa Bilodeau, and her son Kristian Bilodeau (wife, Mercedes). She was preceded in death by her beloved son Joseph Bilodeau. She dearly loved her grandchildren, Vincent Dixon (wife, Lauren), Justin Dixon (wife, Hayley), Julian Bilodeau, Matthew Dixon (wife, Megan), Saniyah and Zoie Bilodeau. She was extremely loved and will be greatly missed.
She is also survived by her sisters Virginia Rosa, Juanita Rodriguez, and her brothers Henry Rosa and Willie Gonzalez, and multitudes of nieces and nephews and cousins and extended family. She was preceded in death by her brother Carmelo Delgado.
Memorial Service will be held on Thursday, June 16, 2022 from 2-5pm and 7-9pm at Martin A. Gleason Funeral Home L.L.C., 149-20 Northern Blvd. Flushing, NY 11354. The following day her cremated remains will be laid to rest at St. Charles Cemetery, 2015 Wellwood Ave. Farmingdale, NY (Section 48) where her son and mother are also laying to rest.
Deisler Funeral Home is honored to serve the Bilodeau family. Please share your thoughts and memories with the family through www.deislerfuneralhome.com