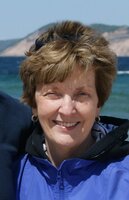 Phyllis Elaine Ziegelmann
Ziegelmann, Phyllis Elaine (Schulz)
3/13/1943 - 5/26/2022
Saginaw, Michigan
Beloved wife, mother, grandmother, sister and friend passed away on Thursday, May 26, 2022 at the age of 79 years. Phyllis Elaine Schulz was born on March 13, 1943 in Detroit to Donald and Maxine Schulz. The family later moved to Saginaw, where Phyllis graduated from Arthur Hill High School in 1961. She attended Central Michigan University, returning to Saginaw for a job with General Motors. She married the love of her life, Kirk Ziegelmann, on June 20, 1964, together they started their family and her focus was placed on their three sons. Phyllis dedicated her life to caring for her family and loved to spend time with family and many special lifelong friends. When her home became a bit quieter, Phyllis returned to work at Evenknit and then Hallmark. She enjoyed her many conversations with customers and co-workers throughout those years. Kirk and Phyllis enjoyed travel, taking countless road trips when their kids were young as well as many vacations around the continental U.S. and Alaska in retirement.
Phyllis is survived by her husband, Kirk and three sons, Steve Ziegelmann of Saginaw, Mike Ziegelmann of Victor, NY, Brad (Sarah) Ziegelmann of Saginaw, and seven grandchildren, Joel, Ryan, Abby, Ashley, Charlie, Ian and Katie. Also surviving are her brother, Donald (Alice) Schulz of Freeland, and sister-in-law and brothers-in-law, Ann (Gary) Bradley of Ubly, Ron Ziegelmann of Wheatland, WY, her special aunt, Beverly McHugh, and many nieces, nephews, cousins and friends.
Phyllis' family would like to extend a heartfelt thank you to the staff of Edgewood Assisted Living and Cardinal Hospice for their gentle and compassionate care provided to Phyllis and her family.
SERVICE: Funeral service for Phyllis will take place at 1:30 p.m. Thursday, June 2, 2022 at Deisler Funeral Home, 2233 Hemmeter Rd. (off State) Saginaw, MI 48603. Rev. Ted McCulloch will officiate with burial to follow in Roselawn Memorial Gardens. Family and friends may visit at the funeral home on Thursday from 11:00 a.m. until the time of service.
MEMORIALS: Those planning an expression of sympathy may wish to consider a donation to Edgewood Assisted Living or Cardinal Hospice Care.
The Deisler Funeral Home is honored to be serving the Ziegelmann family. Please share your thoughts and memories with the family at the funeral home or through DeislerFuneralHome.com