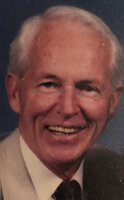 Gerald Joseph "Jerry" Talbot
Gerald "Jerry" J. Talbot age 88, of Saginaw, Michigan passed away peacefully on Monday, May 9, 2022 at home surrounded by his family. Gerald was born February 26, 1934 in Utica, New York, the son of the late George and Minnie (Laveck) Talbot. Gerald was united in marriage to Joan Brennan on June 29, 1957; she preceded him in death on August 15, 2021.
Jerry attended Gilmore Academy, Gatesville, Ohio and graduated in 1952. He attended the University of Detroit studying Business Administration. He received his Junior Accounting Certificate from Northeastern School of Commerce, Bay City Michigan. He proudly served two years in the United States Army, in Dugway, Utah. Jerry worked at Wickes Lumber as a Tax Accountant for 20 years and was part owner of the State Lanes, Bay Lanes and Stardust Bowling Alleys.
Over the years Jerry was active with the United Way, St. Joseph Orphanage, Knights of Columbus, Serra Club and on the board of Ascension St. Mary's Foundation and Fields Neuroscience Institute.
A devoted husband, father and grandfather; he is survived by a daughter; Mary Jo (Steve) Scofes, granddaughters; Morgan and McKenzie, daughter; Molly Talbot and son Tony Talbot (Mark Duffy). Jerry was preceded in death by his parents, wife and son-in-law; James Traynor.
FUNERAL: Funeral Liturgy will take place at 12:00 p.m. Saturday, May 14, 2022 from St. Dominic Catholic Church, St. Stephen Parish, 1310 Malzahn St. Saginaw, MI 48602 with Rev. Fr. Steve Gavit to officiate. Private entombment to follow in St. Andrews Mausoleum. For those unable to attend the service, you are invited to join remotely at: https://www.youtube.com/watch?v=xZvdDyyzJ5o
VISITATION: Family and friends will gather at the church Saturday from 11:30 AM until the time of service.
MEMORIALS. In lieu of flowers, please consider a donation to St. Dominic Parish, 1310 Malzahn St. Saginaw, MI 48602 or Brennan Talbot Named Scholarship at St. Ursula Academy, 1339 East McMillian St., Cincinnati, OH 45206
Deisler Funeral Home is honored to be serving the Talbot family; To share an online condolence please visit: www.DeislerFuneralHome.com