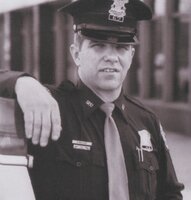 Bradley M. "Brad" Melcher
Melcher, Bradley M.
Saginaw, Michigan
Bradley M. Melcher died on April 22, 2022, at Covenant Medical Center in Saginaw, following a period of declining health, age 79 years.
Brad was born to the late Maurice and Katherine (Schultz) Melcher on September 16, 1942, in Saginaw, attending South School and graduating from Arthur Hill High School in 1960. Dad enlisted in the Army and served in Vietnam with the 1st Calvary Airborne Div. at the Battle of Ia Drang. Following his honorable discharge from Vietnam, he worked for a time at Saginaw Steering Gear and later as an apprentice patternmaker at United Pattern and Mfg. in Saginaw.
Brad married the former Angelita C. Gonzalez at St. Joseph Catholic Church in Saginaw on December 2, 1967. He was at her side when she predeceased him on September 30, 2019. Together with Mom, Dad raised three children, who survive him: Andrejs (Delia), Dallas, TX; Kurt and Karl, both of Saginaw.
In 1972, Brad began a 48-year career in law enforcement, joining the Saginaw Police Department, where he was known as "Tony" to his fellow officers. He was shot in the line of duty in 1973 and subsequently recovered and returned to the patrol division where he served with Saginaw's first Emergency Services Team (SWAT Team) in 1977. In 1983, he earned the Distinguished Service Award for using non-lethal force to subdue and disarm a suspect armed with a rifle. In 1993, following a petition by his fellow officers, he was belatedly awarded a Wound Decoration and the Courageous Service Award in recognition of his 1973 injury. Brad retired from the detective division in 1999. But, with police work still in his blood, he returned to the Police Department in 2000, working for approximately twenty more years as a civilian employee.
In addition to his service to the citizens of the City of Saginaw, Dad served in the Michigan National Guard, 425th Infantry, Co. F, based at Selfridge ANGB; and in the Coast Guard Reserve at Essexville. He was also a skydiver with over 100 jumps, participating in several exhibitions with the Michigan National Guard through the 1970s and early 80s.
Dad practiced karate and was a student of the late James Morrone, Jr., 7th Dan, at the Japanese Shotokan Karate-Do Association in Detroit. He also participated in several karate competitions in the 70s and 80s, sometimes with Mom joining him. Dad was a fan of vintage auto racing and regularly made annual trips to watch the vintage races at Waterford and Grattan. He also liked watching Formula One racing, football, boxing, and MMA competitions.
Dad was an avid fan of "close-up magic" was fond of performing various sleight-of-hand, card, and coin tricks for family and friends. Dad long had a keen interest in military history and in Eastern Philosophy. He read extensively on those subjects and greatly enjoyed discussing these with family, friends, and strangers alike.
Brad is survived by his siblings: Marlene, Gordon, and Lauren, and his grandchildren: Alec Melcher, Adrienne Hayden, and Daniella Melcher, as well as many nieces, nephews, and cousins. In addition to his wife of 51 years, Brad was predeceased by his granddaughter, Andriana Melcher, in 1993, and two nephews: Winston Melcher and Christopher Gonzalez.
The family would like to thank the nursing and physical therapy staff at St. Francis Home in Shields for the care they provided these last few months, as well as the care team during his recent time at Ascension St. Mary's Hospital, and especially for the lifesaving efforts and compassion shown to Dad and the family by the Emergency Care Center staff at Covenant Medical Center during his final hours.
FUNERAL SERVICE: In accordance with Mr. Melcher's wishes, cremation has taken place. Funeral service take place at Noon on Monday, May 2, 2022 at the Deisler Funeral Home, 2233 Hemmeter Rd. (off State). Military honors under the auspices of the United States Army and American Legion Post #22 and burial will follow at Mount Olivet Cemetery.
VISITATION: Family and friends may visit at the Deisler Funeral Home on Monday, May 2, 2022 from 10:30am until the time of funeral.
Please share your thoughts and memories with the family at the funeral home or through www.DeislerFuneralHome.com