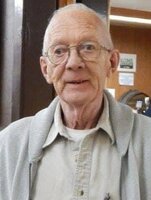 John Tarnosky
Tarnosky, John
Saginaw, Michigan
Loving husband, father, grandfather and great-grandfather passed away with his family by his side on Sunday, April 10, 2022 at his residence. He was 83 years old. John Tarnosky was born on September 23, 1938 in Au Gres, Michigan to the late John and Anne (Snyder) Tarnosky. He married JoAnn Marie Waterman on October 22, 1960, she survives him. John was employed by General Motors as a tool & die maker, retiring after 45 years of service. He was a faithful member of St. Thomas Aquinas Church for many years and was a member of the Classic Highway Car Club.
John loved hunting. He also enjoyed being outdoors fishing, camping, boating, snowmobiling and cutting his grass. John was a classic car enthusiast, winning many awards with his red and white Mustang convertible. But, what John really loved most was spending time with his family.
Surviving are his wife of 61 years, JoAnn Tarnosky; children, John M. (Fiancé Darlene Hatheway) Tarnosky and Renee (Michael) Kretz; grandchildren, Joseph Michael Tarnosky, Kaitlin Michelle Ott, Kasey Michael Kretz, Mallory Ann Kretz, Jaxson Harley Tarnosky and Madeline Renee Tarnosky; great-grandchildren, Delta Ott and many nieces and nephews.
John was preceded in death by his son, Timothy R. Tarnosky.
FUNERAL SERVICE: A Funeral Service will take place at 11:00 a.m. Monday, April 18, 2022 at Deisler Funeral Home, 2233 Hemmeter Rd. (off State). Rev. Fr. Robert Byrne will officiate. Committal service will follow at St. Andrew Cemetery.
VISITATION: Family and friends will gather at the Deisler Funeral Home, 2233 Hemmeter Rd. (off State) on Monday, April 18, 2022 from 10:00 a.m. until the time of service at 11:00 a.m.
MEMORIALS: Those planning an expression of sympathy may wish to consider memorials to the American Diabetes Association.
Deisler Funeral Home is honored to serve the Tarnosky family. Please share your thoughts and memories with the family at the funeral home or through www.deislerfuneralhome.com