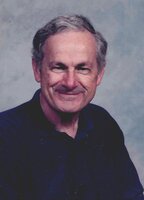 Michael T. Coffey
Coffey, Michael T.
Saginaw Twp., Michigan
Beloved husband, father, grandfather, brother, uncle and dear friend passed away peacefully on Saturday, April 9, 2022 at his home, surrounded by family. Michael was 83 years old, and very proud of his strong Catholic faith. Michael Terrance Coffey was born June 13, 1938 in Saginaw to the late John Lawrence and Mary Ellen (Brewer) Coffey. He graduated from Sacred Heart Catholic High School in Saginaw, Class of 1956. Michael married Sharon L. Boothe on February 13, 1960 at St. Mary's Cathedral; she survives him. Michael pursued his passion in teaching after completing his undergraduate and graduate work in education at Central Michigan and Michigan State Universities. Throughout his career, Michael touched the lives of his students teaching in grades 7-12 and in adult education within the Saginaw Public School System. He retired in 1998 after 24 years of dedicated service, maintaining relationships with friends and colleagues. Michael was a faithful member of St. Thomas Aquinas Catholic Church, an active member of both the Michigan and National Education Associations, and an avid lover of all things Irish.
Michael enjoyed spending time with his family and had a special place in his heart for his grandchildren, who fondly referred to him as 'Grapa'. He had a passion for gardening and the miracle of life in all of its forms.
Michael's life was marked with kindness, self-sacrifice, humility, and empathy. He had a great devotion to the Blessed Virgin Mary and prayed the Rosary daily. He was dedicated to helping the poor, and conveyed this obligation to his beloved children and grandchildren.
Michael is survived by his wife, Sharon L. Coffey; children: Michele M. (Scott) Seamon, Mary S. Coffey, Colleen A. Coffey and Michael P. (Kari) Coffey; grandchildren: Andrew John "A.J." (Candace) Seamon, Rachel Michele Seamon (fiancé, Collin Carter) and Weston M. Coffey; brother: Robert (Patricia) Coffey; sisters: Sharon Coffey, Margaret (Larry) Schmidt and Francis (Michael) Manchester; sister-in-law, Deborah Coffey; many nieces, nephews, extended family and dear friends.
Michael was preceded in death by his parents; brothers: David Coffey, Gerald Coffey and Patrick Coffey; and sister, Jacqueline Lemiesz.
SERVICE: A funeral liturgy for Michael will be held at 10:30 a.m. Wednesday, April 13, 2022 at St. Thomas Aquinas Catholic Church, 5376 State Street, Saginaw, MI 48603. Rev. Fr. Richard A. Bokinskie will officiate with burial to follow at St. Andrew Cemetery.
VISITATION: Family and friends will gather at St. Thomas Aquinas Catholic Church on Wednesday, April 13, 2022 from 9:30 a.m. until the time of Mass.
MEMORIALS: Per Michael's wishes, those planning an expression of sympathy may wish to consider a donation to the Saginaw Rescue Mission. Arrangements have been entrusted to the Deisler Funeral Home, 2233 Hemmeter Rd. (off State), Saginaw. Please share your thoughts and memories with the family at the church or through www.DeislerFuneralHome.com