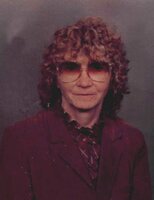 Millie M. Lyvere
Millie M. Lyvere
Birch Run, Michigan
Our beloved sister and aunt passed away peacefully on Thursday, April 7, 2022 at HealthSource-Saginaw. She was 75 years old. Millie Marie Lyvere was born on February 28, 1947 in Saginaw, Michigan to the late Milford D. and Emma (Curtin) Lyvere, Sr. She was a faithful member of the Cathedral of Mary of the Assumption Catholic Church and Holy Family Catholic Church. Millie found peace spending time in the garden and tending to the yard. She loved fast cars and spending time with her family.
Surviving are three brothers: Milford James Lyvere, Jr. of Birch Run, Louis Leroy (Nancy) Lyvere of Freeland, and Richard Lee Lyvere of Birch Run; two sisters: Shirley Ann Chevalier of Whittemore and Lillian Deloris Lyvere of Burt. Also surviving are many nieces and nephews.
She was preceded in death by four brothers: Floyd Albert Lyvere, Lawrence Lyvere, Jack Lyvere and Robert Dewayne Lyvere; a sister, Ellen Kienutski; and her parents, Milford D. and Emma Ann (Curtin) Lyvere.
FUNERAL: A Funeral Liturgy will take place at 11:00 a.m. on Tuesday, April 12, 2022 at Holy Family Catholic Church, 1525 S. Washington Ave., Saginaw 48601. Rev. Fr. Prentice A. Tipton Jr. will officiate. Rite of Committal will take place at Mt. Olivet Cemetery.
VISITATION: Family and friends are welcome to visit at the church on Tuesday from 10:00 a.m. until the time of Mass at 11:00 a.m.
MEMORIALS: In lieu of flowers, those planning an expression of sympathy may wish to consider memorials to Cathedral of Mary of the Assumption or Holy Family Catholic Church. Arrangements have been entrusted to the Deisler Funeral Home, 2233 Hemmeter Rd. (off State). Please share your thoughts and memories with the family at the church or through www.DeislerFuneralHome.com.