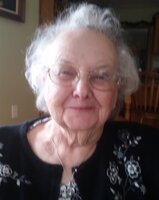 Donna Jean (Taylor) Gilbert
Gilbert, Donna Jean (Taylor)
Zilwaukee, Michigan

Beloved wife, mother, grandmother, great-grandmother, sister and aunt passed away on Wednesday morning, March 30, 2022 at her residence in Zilwaukee. She was 90 years old. Donna Jean Taylor was born on April 7, 1931 in Caro, MI to the late George and Agatha (Cockerill) Taylor. She married George Gilbert on August 29, 1953 in Saginaw, MI. She was a faithful and active member of St. Matthew's Catholic Church in Zilwaukee, teaching Catechism classes for 27 years and also serving on the Church Board.

Donna was a Girl Scout leader for many years and was also active in the Boy Scouts as a den leader trainer. She was the first woman in the White Pine District (BSA) to get the Award of Merit. She was also involved with her community in the American Business Women's Association and the Lioness Club. She loved to travel in her motorhome and was blessed to visit all 50 states in the U.S. and the Virgin Islands. Donna was very artistic. She loved doing all types of crafts. She belonged to the Quilting Club, Cooking Club, Gardening Club and the Saginaw Valley Bead Society. She even taught ceramic classes. One of her greatest loves was the years she spent grooming and raising poodles.

Surviving are her husband, George Gilbert; children Gregory (Wendy) Gilbert, Sheryl (Terry) McDonald, Michele Garrett (Ryan Foster), Deborah (William) Bates, Darlene (David) Jekel, Douglas (Melissa) Gilbert; grandchildren Aubrey (James) Ciaramitaro, Hali Gilbert, Alexandra (Caleb) Browne, Kaylee McDonald (fiancé Taylor Dietz), Brendan McDonald, Mallory Garrett, Justin Garrett, Ryan Bates, Lauren Bates, Devan Jekel, Dalton Jekel, Connor Gilbert, and Brenna Gilbert; step-grandchildren Jennifer Bates Sowders, William Bates Jr., and Melissa Frank; great-grandchildren Charlotte, Tristan, Emmalynn, Nash, Isabel, Jaxxson and Gunner; step great-grandchildren Taylor, Tyler, and Kaleb; three brothers Robert
(Helen) Taylor, Thomas (Denise) Taylor, Dale (Jackie) Taylor, and many nieces and nephews.

Donna was preceded in death by her parents, George and Agatha Taylor; her brothers George Taylor, Richard Taylor and Jerry Taylor; sisters Patricia Park and Mary Rooney.

SERVICE: In keeping with Donna's wishes, cremation has taken place. A Funeral Liturgy will take place at 11:00 a.m. Saturday, July 30, 2022 at Saint John Paul II Parish – St. Josaphat site, 469 Shattuck Road, Saginaw, MI 48604. Family and friends will gather at the church on Saturday from 10:00 a.m. until the time of service.
Deisler Funeral Home is honored to serve the Gilbert family. Please share your thoughts and memories with the family through www.deislerfuneralhome.com