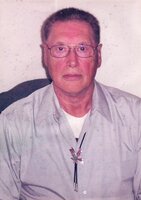 Ollie William Root
Root, Ollie William
St. Charles, Michigan
Ollie William Root passed away peacefully at his home on Saturday, March 19, 2022. He was born November 13, 1942 in Albion, Michigan to the late Walter and Lula (Allen) Root. Ollie was preceded in death by his parents, an infant son, Rodney Root; and his first wife, Arlette Root.
Ollie is survived by his son, Bradford (Terri) Root; granddaughter, Jamie (Matt) Walderzak; great grandchildren: Michael Gutierrez, Rhea and Ellie Walderzak; and his best friend, Daniel Welsh.
Ollie and his second wife, Cathy, were gracious hosts to nine Foreign Exchange Students. The Exchange Students became like family to Ollie and he traveled to foreign countries like Brazil, Japan and the Czech Republic to visit his extended family.
Ollie proudly served his country with the U.S. Army in Germany from 1961-1964. He then returned to Saginaw and worked for General Motors from 1965-1999. During that time, he also drove forklift and Zamboni for the Saginaw Gears. Ollie enjoyed hunting bear and deer, woodworking, camping and traveling. He was a skilled builder, having built his own home and hunting cabin in Big Bay Marquette. Ollie was always willing to lend a helping hand. He would like to say thank you to special friends and neighbors: the Reikowsky, Armbuster and Geese families, especially Frankie Geese of Saginaw, and regards to his very dear friends at Local U.A.W. #455.
In keeping with Ollie's wishes, cremation has taken place. Ollie's family will celebrate his life at a later date. Arrangements are entrusted to the Deisler Funeral Home, 2233 Hemmeter Rd. (off State), Saginaw, MI 48603. Please share your thoughts and memories with the family through www.DeislerFuneralHome.com