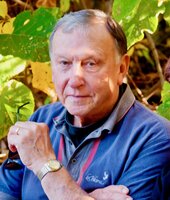 Kenneth P. Ott
The following obituary has been updated with Memorial Service information:
Ott, Kenneth P.
Saginaw Twp., Michigan
Kenneth P. Ott of Saginaw Township, died peacefully on March 7, 2022, at the age of 81. He was born in Saginaw to the late Phillip and Mildred (Schumacher) Ott. He leaves behind to forever love and mourn him, his wife of 60 years, Carol (Wolinski) Ott; son, Rick (Brenda) Ott of Ada, Michigan; grandchildren: Arden Ott, Nicholas Ott, Katy Ott and Nolan Ott; and his sister, Joanne (Dale) Reetz. Ken was preceded in death by his son, Joe Ott.
Ken worked for the City of Saginaw Police Department for 10 years, serving in Patrol, Investigation, Vice, Planning and Research. At age 29, he decided to continue his education attending Michigan State University where he received a Master's Degree in Criminal Justice. Ken then was hired as Chief of Police in Saginaw Township, where he served for 25 years.
During his police career, Ken was named Policeman of the Year both in the City of Saginaw and Saginaw Township. He was a member of the Region 7 program to distribute grants to police departments. He was the founder of the Saginaw County Chiefs of Police, where he served as president of that organization for many years. Ken was also on the initial planning committee for the 911 program and a lifetime member of the International Chiefs of Police. Other highlights of his career were planning security for and meeting various political figures who visited Saginaw Township including, President Gerald Ford, George W. Bush and Senator Ted Kennedy. He was very proud of the STPD and its fine reputation.
Ken loved life, and was happiest hunting, fishing or golfing. Per his wishes cremation has taken place.
CELEBRATION OF LIFE: A Celebration of life will take place at 11:00 a.m. Friday, May 20, 2022 at Deisler Funeral Home, 2233 Hemmeter Rd. (off State).
VISITATION: Family and friends will gather at Deisler Funeral Home, 2233 Hemmeter Rd. (off State) on Friday, May 20, 2022 from 10:00 a.m. until the time of service at 11:00 a.m.
In lieu of flowers, donations may be made to the Child Abuse and Neglect Council or the City Rescue Mission. Arrangements have been entrusted to Deisler Funeral Home, 2233 Hemmeter Rd. (off State), Saginaw, MI 48603. Please share your thoughts and memories with the family at the service or through www.DeislerFuneralHome.com