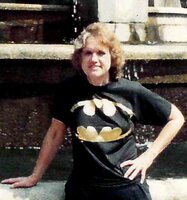 Mary Ellen Taylor
Taylor, Mary Ellen
Saginaw, Michigan
Loving mother and sister passed away on Saturday, February 19, 2022 at Covenant HealthCare in Saginaw. She was 81 years old. Mary Ellen Locke was born on June 21, 1940 in Petoskey, Michigan to the late Warren and Regina (Fettig) Locke. As a young mother, she raised three wonderful children while pursuing her career in nursing. She was employed by Saginaw General Hospital as a Registered Nurse, retiring after 35 years of service. Mary Ellen was a faithful member of St. Thomas Aquinas Catholic Church for many years.
She loved spending time in her beautiful backyard enjoying her koi pond and all the wildlife. Mary Ellen could often be found relaxing in her chair feeding the squirrels by hand. She referred to her backyard as the nature center, finding joy every spring to see what new animals made it their home.
Surviving are her children, Dennis Taylor, Patrick Taylor, and Michelle Taylor; daughter of her heart daughter, Molly Roy; heaven sent friend, Regina Provenzano; siblings, Ron, Donna, June, Warren and many nieces and nephews.
Mary Ellen was preceded in death by her soulmate, Marvin Buerker; siblings; Karen and Bill.
MEMORIAL SERVICE: A Memorial Service will take place at 11:00 a.m. Tuesday, March 1, 2022 at Deisler Funeral Home, 2233 Hemmeter Rd. (off State). Rev. Fr. Richard A. Bokinskie will officiate.
VISITATION: Family and friends will gather at Deisler Funeral Home, 2233 Hemmeter Rd. (off State) on Tuesday, March 1, 2022 from 10:00 a.m. until the time of service at 11:00 a.m.
MEMORIALS: In lieu of flowers, those planning an expression of sympathy may wish to consider memorials to wishes of the family c/o Patrick Taylor to assist with funeral costs.
Deisler Funeral Home is honored to serve the Taylor family. Please share your thoughts and memories with the family at the funeral home or through www.deislerfuneralhome.com.