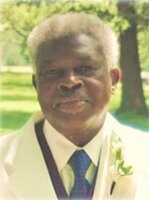 Eugene Clark Sr.
Clark, Eugene Sr.
Saginaw, Michigan
On February 20, 2022, the Lord called Eugene Clark Sr. home and reunited him with the love of his life, his late wife Ruby. Eugene was born March 5, 1940, to the late May and Timpie Clark in Lauderdale, MS. Eugene came to Michigan in 1968 to work at Sanitary Mattress Company and later Steering Gear, where he retired from in 1982. Eugene met Ruby in April of 1968 and they married October 7, 1968. Eugene was a good man with a giving heart, and he will be missed by all who knew him.
Eugene leaves to cherish his memory, his eldest daughter Shirley James of Moreno Valley, CA, and his two devoted daughters Rhonda Clark and Tia (Derrick) Mitchell of Saginaw, MI, his grandchildren and great-grandchildren, including two special great grandchildren, Ka'Myrah and Santiago Jr. (Dooder) Clark. His siblings, Marvin (Norma) Clark, Mosby (Pamela) Clark Sr. of Saginaw, MI, Ivoner (Bobby Joe) Lowery of Grand Rapids, MI, and Lurene Clark of Lauderdale, MS. His in-laws, Mamie Clark, Willie McWilliams, Pat Jackson, Cynthia Thomas, Brenda Curry, and Frederick Curry, many nieces and nephews including one special niece, Sherry Clark and one special nephew, Demarion (Sophia) Clark. He also leaves to cherish his memory his devoted caretaker and honorary family, Angelina Jackson and her kids, MoNey and (his buddy) Torrion Jr (T.J.). Also remembering Eugene are his friends, Lucious (Olee) Roberson, Curtis Anderson, J.T. (Mildred) Jones, Oliver Torrence, Dave (Clydia) Perry, Sandy (Florence) Hall, George (Dorothy) Williams, Ralph Smith, Moses Collins, Alexander Alexander, Charlie Clemons, and Pat (Shirley) Henderson.
Eugene was also predeceased by his daughter (baby) Rene Clark, his son Eugene Clark, Jr., his siblings Lewis Clark, Ed Clark, Bettie B. Clark, Odie (Dave) Shadwick, Lizzie May (Frank) Naylor, Mary Jackson, Martha McWilliams, Lessie L. Clark, his nephew who was raised as his brother Lindsey (Diane) Mitchell, his niece Rosalind Clark-Stewart, his beloved nephew Eric Clark, his in-laws Charlie (Jimmie Lee) Curry, Jimmie Ruth McKay, David Curry, and Mary Curry.
The family would like to thank the staff at Cass River Health Plaza, especially Lori Jones, Pattie, and Alice. Also, thanks to the staff at Promedica (Heartland) Hospice Home Healthcare, especially Randall, Skylar, and Heather. We appreciate all of you and thanks for caring.
The Clark family will hold a private ceremony on Wednesday, February 23, 2022 to celebrate Eugene's life. Pastor Terry Randolph will officiate. Following the service, Eugene will be entombed at the Roselawn Memorial Gardens Mausoleum.
Deisler Funeral Home is honored to be serving the Clark family. Please share your thoughts and memories with the family through www.deislerfuneralhome.com or by mailing condolences to c/o the Clark family, 2233 Hemmeter Road, Saginaw, MI 48603.