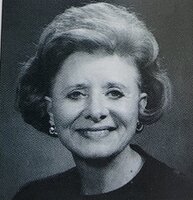 Patricia Ann Learman
Learman, Patricia L.
Saginaw, Michigan
Beloved wife, mother, and grandmother passed away with her family by her side on Saturday afternoon, February 19, 2022 at her residence. She was 94 years old. Patricia Ann Lattimer was born June 28, 1927 in Louisville, Kentucky to the late Dr. Ray and Gertrude (Gordon) Lattimer and grew up in Parkersburg, West Virginia. She married her loving husband, John Frank Learman on December 23, 1950 in Chevy Chase, Maryland. Pat attended Chevy Chase Junior College, West Virginia University and earned a Juris Doctor degree at George Washington University Law School in Washington, DC, where she and her husband met. Pat was a member of the Michigan Bar Association and practiced law for many years in Saginaw. A trailblazer for women lawyers, she recounted how early in her career she was told she was practicing a "man's profession" and that if she trained in stenography, she could be helpful to a "real lawyer". She served on the board of the former Citizens Bank-Saginaw and the corporate board of Citizens Banking Corporation-Flint. She also served on the boards of Saginaw General Hospital, Child and Family Service of Saginaw, the Saginaw County Bar Association, the Delta College Foundation, and the Junior League of Saginaw.
From 1957 until her passing Pat enjoyed the family cottage on Sanctuary Bay, in Harrisville, Michigan. Also for over forty years she enjoyed their home at the John's Island Club in Vero Beach, Florida. Pat and her husband traveled the world extensively but the special place in her heart was the family cottage she referred to as her "soul place".
Surviving are her husband, John Frank Learman; children, Susan (Mark Krysinski) Learman, Jeffrey (Lori Coates) Learman, and Scott (Cheryl Daniels) Learman; grandchildren, Alexander Coates, Christina Krysinski, Charles Krysinski, Victoria Learman and Steven Learman; cousins Katherine Boylan, Patricia McConkey, Sarah Thomas; in-laws Richard and Jean Learman; and nieces and nephews Rick Learman, Randy Learman, Mike Learman; Cathy Bourdganis, Bob Learman, Craig Learman and David Learman.
Pat was preceded in death by her special cousin Janet Thomas Meek.
In keeping with Pat's wishes, cremation has taken place. The Learman family will hold a private memorial service later this summer at Mt. Joy Cemetery, Harrisville, Michigan.
MEMORIALS: In lieu of flowers, those planning an expression of sympathy may wish to consider memorials to a charity of your choice.
Deisler Funeral Home is honored to serve the Learman family. Please share your thoughts and memories with the family through www.deislerfuneralhome.com.