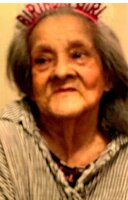 Lucy F. Rodriguez
Rodriguez, Lucy F. of Saginaw, Michigan age 95, passed away Sunday evening with her family at her side. Lucy was born January 25, 1927 in Texas the daughter of Anastacio and Ottila (Cuellar) Flores. She was united in marriage to George Pena Rodriguez in 1953; he preceded her in death July 27, 2010. Lucy enjoyed fishing and picking her own chili peppers and tomatoes. She also enjoyed spending time with her family; especially her grandchildren. Lucy had a special place in her heart for animals; she adopted several in her lifetime. She will always be remembered for her huge heart and would do anything for her family and friends.
Lucy is survived by her son; Steve and wife Jackie Rodriguez, eleven grand-children; three great-grandchildren; two great-great-grandchildren; and many nieces and nephews. Besides her husband George, Lucy was preceded in death by three children; George Rodriguez, Lucy Schwieder and Paul Gonzales, brother; Edward Flores and sister; Cora Gamez.
The Rodriguez family would like to give a special thank you to Eddie and Leona Flores and Gloria Lumsten.
FUNERAL: A funeral service will take place Saturday, February 12, 2022 at 11:00 AM at Deisler Funeral Home, 2233 Hemmeter Rd. (off State) Saginaw, MI 48603.
VISITATION: Family and friends can gather at the funeral home Saturday morning from 10:00 AM until the time of services.
Deisler funeral home is honored to be serving the Rodriguez family; Please share your thoughts and memories with the family at the funeral home or by visiting: www.DeislerFuneralHome.com