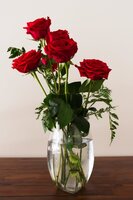 Karen Poppy
Poppy, Karen Lee age 78, passed away unexpectedly Friday, December 31, 2021 at her home. Karen was born June 8, 1943 the daughter of the late Samuel and Mildred Strunk. She was united in marriage to Boyd Poppy on February 14, 1995; he survives her.
Karen graduated from Saginaw High School. She was a longtime member of the American Legion Auxiliary. Karen enjoyed babysitting, crossword puzzles and playing the lottery. But most of all Karen enjoyed spending time with her family.
Karen is survived by her husband; Boyd, two children; Steven (Sandy) Tarrant and Jeffery (Shelly) Davis, four grandchildren; Kirsten and Nathan Davis, Meghan Tarrant and Kennady Davis and one great-grandchild; Peyton.
In keeping with Karen's wishes a private burial will take place in Roselawn Memorial Gardens Cemetery, Saginaw, Michigan.