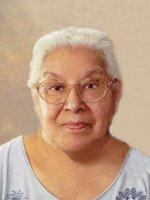 Irene R. Vargas
Vargas, Irene R.
Saginaw, Michigan
Our beloved mother, grandmother, sister, aunt and dear friend passed away peacefully on Christmas morning at her home surrounded by her family. She was 85 years old. Irene Rueda was born on July 24, 1936 in Saginaw to the late Jose B. and Cora (Del Valle) Rueda. She married Pedro R. Vargas on April 18, 1959 at St. Joseph Catholic Church in Saginaw. She was a faithful member of St. Dominic Parish – SS. Peter and Paul Catholic Church. Irene lived to spend time with her family, especially her grandchildren. Her support and love was felt by everyone, and she always had a smile, and positive feelings to share. Life was a gift to her, and she was a gift to her family.
Surviving are two daughters: Guadalupe Bernal and Dina Vargas; six sons: Peter Vargas, Gabriel Vargas, Margarito Vargas, Miguel (Dawn) Vargas, Daniel Vargas and Pat Vargas; grandchildren: Jessica, Maria, Marcus, Lucas, Alyssa, Sabrina, Antonio, Alexis and Serena and many more grandchildren and great-grandchildren; also many nieces, nephews, cousins and extended family.
Irene was preceded in death by her husband, Pedro on March 22, 1999; a son, Jesse Vargas in 1998; a granddaughter, Jessica DeJesus; four brothers: Manuel Rueda, Sr., Rudy Rueda, Sr., Eleanore Robelin, Jose Rueda, Jr., Jesse and Margarita Rueda; and many special aunts and uncles.
FUNERAL: A funeral liturgy for Irene will be held at 11:00 a.m. on Thursday, December 30, 2021 at St. Dominic Parish – SS. Peter and Paul Catholic Church, 4735 W. Michigan Ave., Saginaw, MI 48638. Rev. Fr. Steve Gavit will officiate. Committal prayers and interment will follow at Mt. Olivet Cemetery.
VISITATION: Family and friends will gather at the church on Thursday, December 30, 2021 from 10:00 a.m. until the time of Mass.
MEMORIALS: Those planning an expression of sympathy may wish to consider a donation to Millet Learning Center. Arrangements have been entrusted to the Deisler Funeral Home, 2233 Hemmeter Rd. (off State) Saginaw, MI 48603. Please share your thoughts and memories with the family at the church or through www.DeislerFuneralHome.com