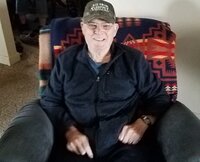 Charles Raymond Muirhead
Muirhead, Charles age 92, of Saginaw, Michigan, passed away on Wednesday, December 22, 2021 at his home with his family by his side. Charles was born August 28, 1929 in Saginaw, MI the son of William and Alice (Minnis) Muirhead. He was united in marriage to the former Lucille Berghoff on April 28, 1956 in Saginaw, Michigan; she preceded him in death on May 11, 2012. Charles loved to hunt and fish but most of all he loved going up north camping and being in the outdoors.
Charles is survived by five children; Sue Lienczewski, Mary (Matt) Mayfield, Bill (Deb) Muirhead, Charles II (Barb) Muirhead and Joe Muirhead, daughter in-law; Renee Muirhead, eleven grandchildren; five great-grandchildren; three sisters, one brother and his beloved dog; Goldie. Besides his wife, Charles was preceded in death by a son; James and daughter in-law; Cindy Muirhead.
FUNERAL: A Funeral Service for Charles will take place Monday, December 27, 2021 at 1:00 PM from Deisler Funeral Home, 2233 Hemmeter Rd. Saginaw, MI 48603 with Pastoral Associate Sharon Wahl to officate. Private burial to take place in St. Andrews Cemetery.
VISITATION: Friends are welcome to visit with the family on Monday, December 27, 2021 from 11:00 AM until the time of service.
MEMORIALS: Those planning a memorial contribution are asked to consider St. Jude Children's Hospital.
Deisler Funeral Home is honored to be serving the Muirhead family; to share your thoughts and memories with the family at the funeral home or by visiting www.DeislerFuneralHome.com