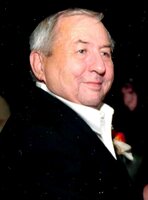 William S. Ryle Sr.
Ryle, William S. Sr.
Saginaw, Michigan
Beloved husband, father, grandfather, great-grandfather and brother passed away on Thursday, December 2, 2021 at Covenant Healthcare in Saginaw, he was 81 years old. William Sidney Ryle Sr. was born on January 23, 1940 in Saginaw, Michigan to the late William and Alice (Deuel) Ryle. He married Shirley Ann Stoll in 1960 in Saginaw, Michigan. He was employed by U.S. Graphite as a Die Setter, retiring in 2002 after many years of service.
He loved golfing and bowling. William also enjoyed the outdoors and liked to hunt and fish. But, what he really loved most was spending time with his family.
Surviving are his wife, Shirley Ryle; children, Debra (John) Ryle-Cook, William (Darcy) Ryle Jr., James Ryle, Kevin (Ashleigh) Ryle; grandchildren, Alicia, Tracey, Travis, Melissa, Taylor, Jordyn, Leland, and Seridea; one great-grandchild, Raven; one sister, Patricia Simerson, and many nieces and nephews.
William was preceded in death by his daughter, Donna Ryle-McCarthy and his sister, Betty Clements.
FUNERAL SERVICE: A Funeral Service will take place at 11:00 a.m. Monday, December 6, 2021 at Deisler Funeral Home, 2233 Hemmeter Rd. (off State). Rev. Fr. John R. Johnson will officiate. Private burial will take place at Chapel Hill Cemetery.
VISITATION: Family and friends will gather at Deisler Funeral Home, 2233 Hemmeter Rd. (off State) on Sunday, December 5, 2021 from 4:00 p.m. until 8:00 p.m. Visitation will continue at the funeral home on Monday from 10:00 a.m. until the time of service at 11:00 a.m.
MEMORIALS: In lieu of flowers, those planning an expression of sympathy may wish to consider memorials to the Humane Society of Saginaw.
Deisler Funeral Home is honored to serve the Ryle family. Please share your thoughts and memories with the family at the funeral home or through www.deislerfuneralhome.com.